Singletasking: Get More Done#One Thing at a Time (Paperback)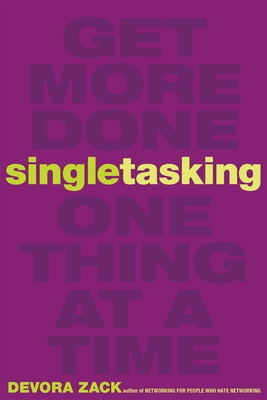 Description
---
Your Mind Can't Be Two Places at Once

Too many of us have become addicted to the popular, enticing, dangerously misleading drug of multitasking. Devora Zack was once hooked herself. But she beat it and became more efficient, and you can too.

Zack marshals convincing neuroscientific evidence to prove that you really can't do more by trying to tackle several things at once—it's an illusion. There is a better way to deal with all the information and interruptions that bombard us today. Singletasking explains exactly how to clear and calm your mind, arrange your schedule and environment, and gently yet firmly manage the expectations of people around you so that you can accomplish a succession of tasks, one by one—and be infinitely more productive. Singletasking is the secret to success and sanity.
About the Author
---
Devora Zack, CEO of Only Connect Consulting, Inc., provides leadership programs to over a hundred clients, such as Cornell University, Australian Institute of Management, London Business School, Deloitte, and the U.S. Department of Education. She has keynoted at the U.S. Treasury, the Smithsonian Institution, John Deere, the National Institutes of Health, and Mensa International. She is also the author of Managing for People Who Hate Managing.
Praise For…
---
"This thorough and convincing guide incorporates a rejuvenating mindfulness to encourage productivity and enjoyment of the everyday."
—ForeWord Magazine (May issue)

"Zack shows readers how they can manage the expectations of others, unplug from technology (at times), and operate in the moment…Even applying a few of the tips would lead to less stress and greater productivity."
—Library Journal

"In this fast paced world, multitasking has become second nature to most of us—but are we really accomplishing more? In Singletasking, Devora Zack shows us how doing one thing at a time reduces stress, increases efficiency, and produces higher quality results. If you want to work smarter, not harder, read this book!"
—Ken Blanchard, coauthor of The One Minute Manager® and Refire! Don't Retire

"Don't let Zack's lighthearted tone fool you—Singletasking is backed by hard science, and this book's pragmatic advice can really change your work and your life."
—David Bach, nine-time New York Times bestselling author of The Automatic Millionaire and Smart Women Finish Rich

"Singletasking can literally double your productivity and performance overnight. This may be the most important book on time and personal management you will ever read."
—Brian Tracy, author of the bestselling Eat That Frog!

"This book could save your life. Multitasking has become a fatal distraction that can ruin your health, your relationships, and your work. Now there's a cure: Singletasking. Read this intensely engaging, laugh-out-loud funny, and down-to-earth practical book—you'll be glad you did."
—Jim Kouzes, coauthor of The Leadership Challenge

"I've been a member of Parliament, an executive director, and a consultant on corporate social responsibility in Africa. I have experienced the stress of multitasking and am grateful for Devora Zack's luminary book on singletasking." 
—Hon. Rev. Dr. Walter McLean, former Secretary of State, Canada

"Zack's system is thoughtful, simple, and practical, so it's no surprise that it works."
—Richard J. McAlonan, Executive Director, Ernst & Young LLP

"Zack makes a compelling case for the merits of living a singletasked life."
—Rachel Lam, Senior Vice President and Group Managing Director, Time Warner Investments

"Multitasking is madness—you wouldn't want to be operated on by a surgeon who was checking her email every five minutes, would you? Devora offers simple, straightforward advice for getting far more done than you ever would hopping around like a frog on a hot skillet."
—Deborah S. Cohn, former Trademarks Commissioner, United States Patent and Trademark Office

"In our hyperconnected world where we fear missing out on anything, Zack delivers a message we need to hear—the key to personal and organizational success is focusing on what matters most."
—Patrick Fitzgerald, Vice President, SiriusXM Radio

"Zack provides the artillery to slay the multitasking monster, creating wholeness, happiness, and peak performance."
—Amy Lemon, Program Manager, Smithsonian Institution

"Zack gives us a much-needed wake-up call about the dangers of a distracted mind."
—Jeff Weirens, M&A Consulting Leader, Deloitte Consulting LLP

"A great read while you're catching up on email, finishing that proposal, and preparing performance feedback for your staff . . . Zack connects with her readers in a light, funny style that makes this book a delightful read."
—Mike Brennan, retired intelligence executive, National Reconnaissance Office

This book could save your life. Multitasking has become a fatal distraction that can ruin your health, your relationships, and your work. But now there's a cure: Singletasking. Read this intensely engaging, laugh-out-loud funny, and down-to-earth practical book now—you'll be glad you did, and so will those you live and work with."
—Jim Kouzes, coauthor of The Leadership Challenge and Dean's Executive Fellow of Leadership, Leavey School of Business, Santa Clara University

"Don't be seduced by the false promise of multitasking! Instead, be seduced by the insight and humor of Devora Zack, who shows you how to really make your mind work at peak efficiency."
—Shai Novik, President, OPKO Biologics
 
"Multitasking is like trying to look in two directions at once: it seems like it'd be cool, but it can't be done and makes your head hurt trying. Devora Zack helps you accomplish more than you ever thought possible using tips and techniques that genuinely work!"
—David Meisegeier, Vice President, ICF International

"I used to multitask constantly, thinking it was the only way to get through my day. After reading this book, I'm a convert."
—Hiro Yamaguchi, General Manager of Corporate Strategy, TEPCO, Japan

"Zack dispels our basic assumptions that multitasking is a sine qua non to achievement and proves in a most informative and entertaining manner that focused singletasking is the true path to achieving our goals."
—Howard Wiener, Partner, KPMG LLP

"Management myth buster Devora Zack's new target is the fabled beast known as multitasking. While a one-man band may entertain and amuse, Zack's new book repeatedly proves that the dedicated, single-task focused individual achieves quantifiable results time and time again."
—Dave Summers, Director of Digital Media Production, New Media Stage Management, American Management Association

"When confronted with multiple tasks that must be completed expeditiously, it's easy to fall into the trap of believing that they all can be tackled simultaneously. Zack demonstrates (with evidence) why we've had it all wrong." 
—Ann-Marie Luciano, Partner, Dickstein Shapiro LLP

"As a customer of Devora's services at two Fortune 500 companies, I can attest that her methods produce tangible results. Singletasking identifies opportunities for improvement and targets the right actions to bring out the best in people and organizations."
—Jeff Martin, former human resources executive, CSC and America Online

"I always suspected that those who prided themselves on being able to do a lot of things simultaneously weren't necessarily superior; this book proves it." 
—P. J. Kuyper, President and CEO, Motion Picture Licensing Corporation

"I always thought I was supposed to pride myself on being able to do a lot of things simultaneously—but I'm too exhausted! Thanks to Devora Zack for showing us a better way."  
—Peter Borden, Vice President, Client Services, SapientNitro