Nine Pints: A Journey Through the Money, Medicine, and Mysteries of Blood (Hardcover)
Weller Book Works was founded as Zion Bookstore nearly 90 years ago. Over the years we've been known as Sam Weller's Books and Sam Weller's Zion Bookstore. We are in our third generation of operations, owned and managed by Tony and Catherine Weller. Our staff includes four generations of Wellers and a remarkable team of book lovers. Our bookstore sells new, used and rare books in a space built to surprise and delight you in historic Trolley Square.

We're happy to answer your questions and help you select just the right book.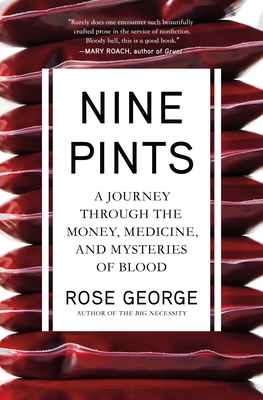 Description
---
An eye-opening exploration of blood, the lifegiving substance with the power of taboo, the value of diamonds and the promise of breakthrough science

Blood carries life, yet the sight of it makes people faint. It is a waste product and a commodity pricier than oil. It can save lives and transmit deadly infections. Each one of us has roughly nine pints of it, yet many don't even know their own blood type. And for all its ubiquitousness, the few tablespoons of blood discharged by 800 million women are still regarded as taboo: menstruation is perhaps the single most demonized biological event.
Rose George, author of The Big Necessity, is renowned for her intrepid work on topics that are invisible but vitally important. In Nine Pints, she takes us from ancient practices of bloodletting to the breakthough of the "liquid biopsy," which promises to diagnose cancer and other diseases with a simple blood test. She introduces Janet Vaughan, who set up the world's first system of mass blood donation during the Blitz, and Arunachalam Muruganantham, known as "Menstrual Man" for his work on sanitary pads for developing countries. She probes the lucrative business of plasma transfusions, in which the US is known as the "OPEC of plasma." And she looks to the future, as researchers seek to bring synthetic blood to a hospital near you.
Spanning science and politics, stories and global epidemics, Nine Pints reveals our life's blood in an entirely new light.
Nine Pints was named one of Bill Gates recommended summer reading titles for 2019.
About the Author
---
Rose George is the author of Nine Pints, The Big Necessity and Ninety Percent of Everything. A freelance journalist, she has written for The New York Times, The Guardian, and many other publications. She lives in Yorkshire.
Praise For…
---
"A very good book... George brings to everything she writes a no-nonsense briskness on the page; a forensic zeal; a potent moral sensibility. She's a nimble writer, one who walks in fear of euphemism or pretension. There are no peacock displays of pointless erudition in her work; no recondite allusions are dragged in."
—The New York Times
"A wonder... An absorbing, vital book by one of the best non-fiction writers working today."
—The Guardian
"I've been mainlining Rose George for years now, so you can imagine my joy in hearing that she'd taken on blood and its many surprising cohorts (leech growth technicians! Breast milk transfusions! Blood-swilling epileptics!). George charges down wholly unexpected avenues of medical history and global injustice, leaving the reader by turns giddy and appalled. And always, always in awe of the writing. Rarely does one encounter such beautifully crafted prose in the service of nonfiction. Bloody hell, this is a good book."
—Mary Roach, author of Grunt: The Curious Science of Humans at War

"Stellar... An informative, elegant, and provocative exploration of the life-giving substance... A wondrously well-written work."
—Booklist (starred review)
"An intensive, humanistic examination of blood in all its dazzling forms and functions... Both fascinating and informative... George packs her book with the kinds of provocative, witty, and rigorously reported facts and stories sure to make readers view the integral fluid coursing through our veins in a whole new way."
—Kirkus (starred review)
"An insightful, fast-paced account... This wide-reaching, lively survey makes clear that blood has become a 'commodity that is dearer than oil.'"
—Publishers Weekly
"Each chapter of Nine Pints reflects George's experience, personal investment, and broad attention to the historical, political, social, biological, and moral aspects of blood.... The book... overflows with telling examples – some fantastic, some uncanny, all informative about the sanguinary fluid."
—Science

"Nine Pints is a compelling chronicle, displaying an engaging prose style as well as moments of righteous indignation."
—The Wall Street Journal
"Blood is life. Blood is death. Writer Rose George's book ranges extensively and often disturbingly between these contradictory extremes.… Highly readable and informative."
—Nature
"A wide-ranging and energetic new book."
—The New Yorker
"A bounty of knowledge and insight… Reading George's dramatic tales and learning about the awe-inspiring nature of this essential substance, readers will likely be left amazed."
—Science News
"With a strong vein of humor, total candor, and a willingness to dig in deep, author Rose George takes readers on a journey tailored to the curious… George drops fact-nuggets like bread crumbs on a path, making even the most squeamish want to follow… For inquisitive readers and fans of Mary Roach, Nine Pints is a cut above.
—The Bookworm
"A conversational and expansive narrative whose brisk pace flows along faster than, well, blood."
—New York Journal of Books