The Real Hank Aaron: An Intimate Look at the Life and Legacy of the Home Run King (Hardcover)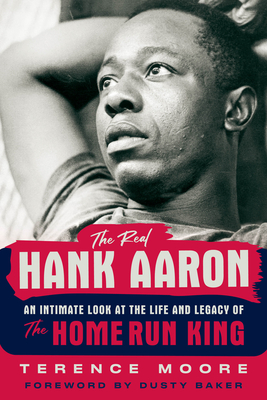 Description
---
A heartfelt portrait of Hank Aaron, featuring nearly 40 years of stories plus never-before-told insights from the home run king

When journalist Terence Moore was 12 years old, he treasured his poster of Henry Aaron. Years later, Aaron would sign it for him: "Best wishes to Terry." Later still, Moore would be named an honorary pall bearer at the home run king's funeral, staying up late into the night with Aaron's widow, Billye, to get the obituary just right for the program.

Friends and family knew Aaron as quick-witted, hilarious, and fiercely opinionated beyond what was shown in public. With the encouragement of Aaron's family, Moore now shares this intimate perspective on the baseball legend, the culmination of decades of friendship and correspondence. The Real Hank Aaron captures the icon's contagious laugh and pointed views, from the depth of his admiration for Jackie Robinson to his true thoughts on Barry Bonds and the steroid era. 

Also featuring Aaron's views on race, politics, media, and sports fandom, this is a charming and illuminating glimpse at the man outside the spotlight.
About the Author
---
Terence Moore is a sports journalist who spent 25 years with the Atlanta Journal-Constitution. In addition to his appearances on national and local television, he has written for outlets including Forbes, the San Francisco Examiner, the Cincinnati Enquirer, and MLB.com. Moore teaches journalism at Miami University, his alma mater.