The Last Sun (The Tarot Sequence #1) (Paperback)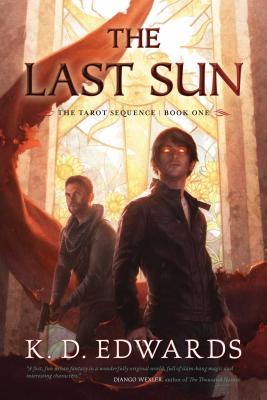 $21.00

Not in Stock... Available to ship in 3-5 days​
Other Books in Series
This is book number 1 in the The Tarot Sequence series.
Description
---
In this debut novel and series starter, the last member of a murdered House searches for a missing nobleman, and uncovers clues about his own tortured past. Rune Saint John, last child of the fallen Sun Court, is hired to search for Lady Judgment's missing son, Addam, on New Atlantis, the island city where the Atlanteans moved after ordinary humans destroyed their original home. With his companion and bodyguard, Brand, he questions Addam's relatives and business contacts through the highest ranks of the nobles of New Atlantis. But as they investigate, they uncover more than a missing man: a legendary creature connected to the secret of the massacre of Rune's Court. In looking for Addam, can Rune find the truth behind his family's death and the torments of his past?
About the Author
---
K.D. Edwards is the author of The Last Sun, book one of the Tarot Sequence. He lives and writes in North Carolina, but has spent time in Massachusetts, Maine, Colorado, New Hampshire, Montana, and Washington State. (Common theme until NC: Snow. So, so much snow.) Mercifully short careers in food service, interactive television, corporate banking, retail management, and bariatric furniture have led to a much less short career in higher education, currently for the University of North Carolina System.
Praise For…
---
Edwards's gorgeous debut presents an alternate modern world that is at once unusual and familiar, with a grand interplay of powers formed by family and the supernatural. Intriguing characters, a fast-paced mystery, and an original magical hierarchy will immediately hook readers, who will eagerly await the next volume in this urban fantasy series.
— Library Journal (STARRED review)

Edwards's debut combines swashbuckling action, political intrigue, and romance into a fast-paced and enjoyable adventure…. Intriguing worldbuilding and appealing characters set the stage and pique the reader's interest for sequels.
— Publishers Weekly

Jaw-dropping worldbuilding, fluent prose, and an equal blend of noir and snark make for that most delicious of fantasy adventures, an out-of-this-world tale that feels pressingly real. A smart and savvy joy.
— A. J. Hartley, New York Times–bestselling author of the Steeplejack series and the Cathedrals of Glass series

A fast, fun urban fantasy in a wonderfully original world, full of slam-bang magic and interesting characters.
— Django Wexler, author of 'The Thousand Names'

Absolutely sensational. Edwards takes all the familiar pawns of urban fantasy and makes royalty of them in his debut. We're invited into an alternative, historical world of staggering breadth and realization. The central characters, Rune and Brand, combine the loyalty of Frodo and Samwise with the sacrilege of a pairing like Tyrion and Bronn. When thrown in beside fascinating magical systems, breathtaking prose, and a relentless plot—this is the tale of Atlantean magic we didn't know we wanted.
— Scott Reintgen, author of 'Nyxia'

This is a highly enjoyable read: take the witty noir of Dashiell Hammett's The Thin Man, kick it to an alternate present day, add equal portions of action and magic, garnish with a sprig of romance, and you have The Last Sun. A great recipe.
— Eric Scott Fischl, author of 'Dr. Potter's Medicine Show'

Sharp dialogue, plus characters you want to follow around just to see what happens next . . . What's not to love?
— Ferrett Steinmetz, author of 'Flex'

Sharp dialogue, plus characters you want to follow around just to see what happens next . . . What's not to love?
— Ferrett Steinmetz, author of 'Flex'