The Nation of Plants (Hardcover)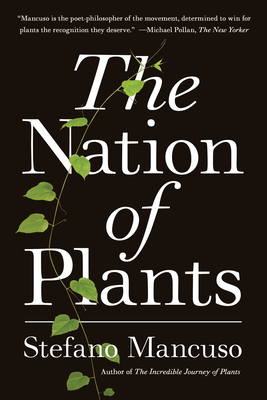 Description
---
In this playful yet informative manifesto, a leading plant neurobiologist presents the eight fundamental pillars on which the life of plants—and by extension, humans—rests.

Even if they behave as though they were, humans are not the masters of the Earth, but only one of its most irksome residents. From the moment of their arrival, about three hundred thousand years ago—nothing when compared to the history of life on our planet—humans have succeeded in changing the conditions of the planet so drastically as to make it a dangerous place for their own survival. The causes of this reckless behavior are in part inherent in their predatory nature, but they also depend on our total incomprehension of the rules that govern a community of living beings. We behave like children who wreak havoc, unaware of the significance of the things they are playing with.
 
In The Nation of Plants, the most important, widespread, and powerful nation on Earth finally gets to speak. Like attentive parents, plants, after making it possible for us to live, have come to our aid once again, giving us their rules: the first Universal Declaration of Rights of Living Beings written by the plants. A short charter based on the general principles that regulate the common life of plants, it establishes norms applicable to all living beings. Compared to our constitutions, which place humans at the center of the entire juridical reality, in conformity with an anthropocentricism that reduces to things all that is not human, plants offer us a revolution.
About the Author
---
Stefano Mancuso is one of the world's leading authorities in the field of plant neurobiology, which explores signaling and communication at all levels of biological organization. He is a professor at the University of Florence and has published more than 250 scientific papers in international journals. His previous books include The Incredible Journey of Plants (Other Press, 2020), The Revolutionary Genius of Plants: A New Understanding of Plant Intelligence and Behavior, and Brilliant Green: The Surprising History and Science of Plant Intelligence.

Gregory Conti has translated numerous works of fiction, nonfiction, and poetry from Italian including works by Emilio Lussu, Rosetta Loy, Sebastiano Vassalli, and Paolo Rumiz.
Praise For…
---
"This artfully crafted exposition delightfully delves into the lives of plants by presenting the eight pillars on which those lives are built." —Newsweek, Best Books to Read This Spring

"Mancuso writes playfully; as manifestos go, he knows, his is deeply weird…But this is peculiarity with a purpose. The conceit, an impassioned argument from collectivized flora that cites both atmospheric emissions and anthropocenic despair, forces readers to ask elemental questions. Who—and what—deserves moral consideration when the fate of one species is so often the fate of another? Mancuso's plants, in the end, make some very good points." —The Atlantic

"A renowned scientist delivers a simple yet urgent call to action on behalf of Earth's multitude of plants…[a] powerful book…Mancuso concludes his elegant and cogent argument with straightforward advice accessible to anyone…Insightful and arresting, this book offers an achievable road map to a more 'radiant future.'" —Kirkus Reviews

"A marvelously inventive spur to imagination. Plants have many lessons to offer us about thriving and resilience, and these are wonderfully elucidated in this deep green journey." —David George Haskell, author of the Pulitzer Prize finalist The Forest Unseen and John Burroughs Medal recipient for The Songs of Trees

"Stefano Mancuso's The Nation of Plants is brilliant and delightful. A perfect little gem of a book." —Sonia Shah, author of The Next Great Migration: The Beauty and Terror of Life on the Move

"A fantastic and necessary read for any plant enthusiast or environmental activist, The Nation of Plants is not merely a missive on the perils of climate change. Rather, the book begins from the whimsical perspective of plants, then weaves scientific fact with historical examples in a moving and inspiring call to action. Apart from the initial address, Mancuso's concrete approach is far from fantastical. The Nation of Plants is moving and informative, balancing a love for all things botanical with a passion for listening to and considering the needs of our plant brethren." —Jessica Roux, author of Floriography: An Illustrated Guide to the Victorian Language of Flowers

"In his new book, The Nation of Plants, Stefano Mancuso expresses his awe for plants by asking a unique question: What if our Constitution were rewritten by plants? What would be the fundamental laws if the Earth were governed by plants rather than people? Mancuso answers this question by masterfully and thoughtfully linking the stories of people, plants, and plant science. A must-read for anyone who is interested in the historical interactions between people and plants." —Valerie Trouet, author of Tree Story: The History of the World Written in Rings

"In this insightful and pithy tract, Stefano Mancuso convincingly argues that the route to fighting climate change and mass extinction, and to living sustainably on this Earth, begins with a floral point of view. This is the constitution we need." —Zach St. George, author of The Journeys of Trees: A Story about Forests, People, and the Future

"The Nation of Plants unveils the long-term relationship between plants and people and explores the rights of all living things. It is a call for cooperation in a world facing persistent environmental degradation. It is a call for our mutual survival." —Lauren E. Oakes, author of In Search of the Canary Tree 

"In this brief book, Stefano Mancuso offers what may be the most original solution to the troubling age of humans. What if it were plants, rather than humans, who wrote a constitution for Earthly survival? Mancuso's innovative manifesto is a set of principles for living according to the botanical world. He imagines a new political order based not on the survival of the fittest, but rather on life in community, mutual aid, freedom from borders, and sovereignty for all living beings. In this engaging read, the plant philosopher pushes readers to see how much our survival depends on the well-being of the Nation of Plants—and gives us a radical guide to living according to the rules of life's unsung heroes." —Elizabeth Hennessy, author of On the Backs of Tortoises: Darwin, the Galapagos, and the Fate of an Evolutionary Eden

Praise for The Incredible Journey of Plants:

"Mancuso is a genial narrator, who tells the story of plants' journeys through well-crafted stories that are embellished by the sweetly decorative watercolors of Grisha Fischer. He effortlessly interweaves science with history, philosophy, and humor and introduces fascinating characters, very much including the plants themselves, which take on human, even heroic, traits." —Wall Street Journal

"A gripping series of evolutionary history vignettes about plants that have coexisted either in spite of or due to human intervention…a new perspective on that hazy term, 'nature.'" —Salon
 
"An absorbing overview of botanical history and why its understanding is vital to the earth's future." —Parade

"Illuminating and surprisingly lively…[Mancuso] smoothly balances expansive historical exploration with recent scientific research…An authoritative, engaging study of plant life, accessible to younger readers as well as adults." —Kirkus Reviews