From the Front Row: Reflections of a Major League Baseball Owner and Modern Art Dealer (Hardcover)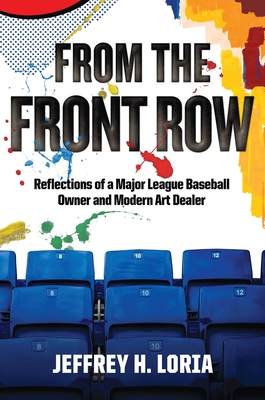 $30.00

Coming Soon - Available for Pre-Order Now
Description
---
In his honest, engaging, and revealing new memoir, entrepreneur Jeffrey Loria lifts the curtain on two of the most mysterious, high-stakes, and high-profile businesses today: Major League Baseball and modern art.

Before he wrote a memoir, Jeffrey Loria was the author of one of America's most remarkable professional careers. He began as a very private modern art dealer, and ultimately became a very public Major League Baseball team owner and World Series champion. Welcome to his unique and thrilling world.

How are great artists like great athletes? How can one recognize great art or great athletic talent? And most of all, who were the amazing artists who changed our visual interpretation of the twentieth century and the talented athletes who are transforming our national pastime? Go inside fascinating artists' studios and high-energy baseball clubhouses and dugouts as Loria shares his keen eye and front-row seat.

From achieving a coveted World Series championship to helping build world-class art collections, which have found their way into many major museums and private holdings, Loria relies on a special mix of perseverance, professionalism, and passion. From the Front Row offers a rare glimpse into the life of a private, sometimes provocative, and highly successful entrepreneur, who has never shied away from taking big risks to achieve big dreams.
About the Author
---
Jeffrey H. Loria is an internationally acclaimed art dealer, specializing in 19th- and 20th-century masterworks. For decades, he collaborated with iconic twentieth-century artists, including Henry Moore, Salvador Dalí, Roy Lichtenstein, and Clyfford Still, and helped build major art and museum collections. He translated that success into professional sports, as the former owner of the Miami Marlins Major League Baseball team. Under his leadership, the Marlins won the 2003 World Series. He is the author of Collecting Original Art and What's It All About, Charlie Brown?, both written in his twenties. From the Front Row is his fourth book. A graduate of Yale University and the Columbia Graduate School of Business, Jeffrey is a devoted philanthropist, having supported universities, hospitals, educational institutions, museums, and other charitable organizations for decades. In 2002, the French government awarded him its coveted Ordre des Arts et des Lettres for his commitment to promoting French culture in America.
Praise For…
---
"A love and understanding of both art and sport…is possibly unique, nonetheless, in the life of Jeffrey Loria, the two interests seem entirely natural. While in his early twenties, Jeffrey made a visit to Henry Moore's home and studios…their initial meeting began a friendship that continued for the next twenty-five years."
— David Mitchinson, Head of Collections and Exhibitions (1968-2010), The Henry Moore Foundation

"I've worked for and with many owners in my long career, but none better than Jeffrey. He knew when to give strategic advice, and when to let Managers do their job. That delicate balance isn't easily achieved, but he struck it perfectly. It's a huge reason why we won a World Series, and I'll always be grateful for his friendship."
— Jack McKeon, Marlins Baseball Manager, 2003 World Series Champion

"This book is a powerful remedy for the jaded; a marvelous story of one man joyfully enlivened through his encounters with remarkable people. Avidly following twin passions for art and baseball, Jeffrey Loria celebrates friendships in both worlds. The thrill of stepping over the threshold where art is made is recounted with imaginative ardor as he discovered some of the most notable artists of our time who became his friends – a compelling tale of discovering a wondrous, kaleidoscopic world, in which Loria has come to be known.

This is a beautifully written book that sparkles with Loria's joie de vivre, vividly conveying the creative skills of exceptionally gifted fellow human beings who are likewise driven to achieve excellence, all the while relishing the sheer pleasure of participating fully in the game of life."
— Sheena Wagstaff, Chair (2012-22), Modern and Contemporary Art, The Metropolitan Museum of Art

"Jeffrey has a deep appreciation for the artistry of baseball. His love, enthusiasm, and respect for all aspects of the game began on the Little League sandlots of New York City and culminated as the owner of the World Series Champion Marlins. As he writes, "Great baseball players have much in common with great artists." Baseball has been truly fortunate to share in Jeffrey's passion, caring, and commitment to our sport."
— Rob Manfred, Commissioner, Major League Baseball