Christian Poetry in America Since 1940: An Anthology (Hardcover)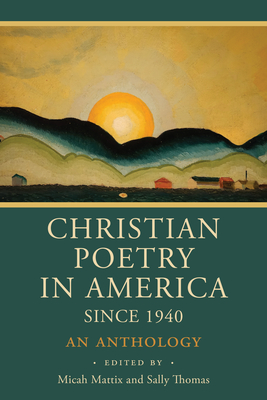 $35.00

Not in Stock... Available to ship in 3-5 days
Description
---
Winner of the 2023 Christianity Book Award — Culture & The Arts!

"One of the best, and least expected, anthologies in decades." —Joseph Bottum, Poetry editor, New York Sun

Showcasing thirty-five American poets born in or after 1940, this anthology confirms that one of the most vibrant developments in contemporary verse has been a renewed engagement with the Christian faith. Across a full spectrum of Christian belief, including the struggle to believe at all, these poets bring the power of their art to bear on serious questions: how to understand the goodness of God in a fallen and tragic world, how to reconcile universal truths with the particularities of human experience, how to render familiar events of salvation history in new language that generates its own epiphanies.  As Christian engagement assumes a multiplicity of modes and voices, so does contemporary poetry in America. This volume, then, selective yet representative, features the work of early-, mid-, and late-career poets, formalists, free-verse poets, and experimenters in prosody. This anthology bears witness to the poetic mind as it seeks that which is above.  
About the Author
---
Micah Mattix is the poetry editor at First Things and an associate professor of English at Regent University. His criticism has appeared in The Wall Street Journal, The Atlantic, The New Criterion, National Review, Humanities, and many other outlets. Previously he was the literary editor at The American Conservative and a contributing editor to The Weekly Standard. He is currently a senior editor at Spectator World and the author of The Soul Is a Stranger in this World: Essays on Poets and Poetry.

Sally Thomas is the author of a poetry collection, Motherland, a finalist for the 2018 Able Muse Book Award and published by Able Muse Press in 2020. She is also the author of a novel, Works of Mercy, published by Wiseblood Books in 2022. Over the last three decades, her poetry, fiction, reviews, and essays have appeared in such journals as First Things, Plough Quarterly, Public Discourse, and the New Yorker. She serves as Associate Poetry Editor for the New York Sun.
Praise For…
---
"Mattix contributes an erudite introduction exploring the question of what makes Christian poetry in the historical context of Christian literary theory. That, combined with the editors' author discussions, make this anthology an excellent book for classroom use where the requirement for Christian poetry to point mimetically to the transcendent can be fully understood and debated." —
National Catholic Reporter
Praise for
Christian Poetry in America Since 1940: An Anthology
"This anthology stands out as a constellation of inspired lights, not just for the poets of faith in our time, but for ALL poets and artists for generations to come. They shine as guiding stars toward the rejuvenation of our souls, and a necessary resource to grow our sanctified imagination." —
Makoto Fujimura
, artist and author of
Art+Faith: A Theology of Making
"Micah Mattix and Sally Thomas have performed a great service, especially for left-brain readers, like me, who often struggle with poetry. The insightful opening essay and thoughtful introductions to each poet lay solid ground for appreciating the poems that follow. And for one who has steeped himself in theology for decades, it's a pleasure to discover poems imbued with the truth, goodness, and beauty of the Christian faith." —
Mark Galli,
former editor in chief of 
Christianity Today,
 and publisher of the 
Peripheral Vision 
newsletter
"All poets can see that
in the beginning was the Word
. They might even discern that
the Word was God
. But how do they perceive that
the Word was made flesh, and dwelt among us
? For that last step, the addition of faith, makes all the difference. The poets gathered in
Christian Poetry in America Since 1940
have all made the leap of faith—and it thickens their verse into one of the best, and least expected, anthologies in decades." —
Joseph Bottum
, Poetry editor,
New York Sun
"The most comprehensive anthology of modern Christian poetry I have seen, including notable voices from across the various denominations of the Church. If Christians are to know the poetic voice of God, they would do well to train their ears with the verses of these disciples." —
Jessica Hooten Wilson
, author of
The Scandal of Holiness
"It's a great time for this anthology of Christian poetry.  The works and writers assembled here by Micah Mattix and Sally Thomas have assembled here provide just the right mix and quality of technical sharpness, intellectual acuity, and spiritual food that this age of cheap pleasures and lost eloquence needs so much.  From Paul Mariani to Dana Gioia to Christian Wiman and beyond--it's a trove of expression for the mind and the soul.  Teachers: do assign this to your classes.  It contains that for which your students thirst." —
Mark Bauerlein
, editor at
First Things
, and author of
The Dumbest Generation Grows Up
"Mattix and Thomas have performed true yeoman's work in collecting this potpourri of poems from a diverse assortment of Christian poets. This slim but substantial volume gives the lie to those who complain that believers in Christ have abandoned the fine arts. There are still many poets out there with their sleeves rolled up, ready to wrestle with temporal and eternal issues." —
Louis Markos
, Professor in English and Scholar in Residence, Houston Baptist University; author of
The Myth Made Fact: Reading Greek and Roman Mythology through Christian Eyes
"Keep this book somewhere you can easily find it, because you'll want to return to it again and again. The poems here will linger with you, and so will the wisdom on how to read them. You won't see the words 'Christian poetry' the same ever again." —
Russell Moore
, Chair of Theology,
Christianity Today
"In his introduction to 
England's Antiphon
, George MacDonald wrote that he hoped his anthology of English Christian poets might form 'a chapel in the great church of England's worship.' In the distinctively American chapel erected by 
Christian Poetry in America
, readers will hear the voices of well-known poets such as Dana Gioia, Tracy K. Smith, and Christian Wiman, but they will also encounter poets such as Benjamin Myers and Chelsea Wagenaar who should be better known. Brief yet perceptive introductions to each poet frame the selections and orient readers to the many facets of Christian practice and poetic art that form this living tradition. By inviting us to step inside America's vibrant—yet often overlooked—chapel of Christian poetry, Micah Mattix and Sally Thomas have given the church a rich gift. 
Tolle lege
." —
Jeffrey Bilbro
, Associate Professor of English at Grove City College and editor-in-chief at
Front Porch Republic
"I am often asked to recommend poets and poetry collections to readers who don't know where to begin. I am delighted to have this volume now, one I will recommend again and again." —
Karen Swallow Prior
, Research Professor of English and Christianity & Culture at Southeastern Baptist Theological Seminary, author of 
On Reading Well: Finding the Good Life through Great Books
"Micah Mattix and Sally Thomas have produced an excellent anthology of American Christian poets. Judicious in their selections and richly informative both in their introduction to the volume and introductions to each poet, they have given lovers of fine poetry a treasure trove of good reading and, as well, a welcome textbook for college classrooms." —
David Lyle Jeffrey
, author of 
Translations: A Collection of Poems 
and 
Scripture and the English Poetic Imagination
"Good poetry is the distillation of language into its purest form. This is especially true of good Christian verse which is the distillation of mere words into purest spirit. This new anthology is, therefore, a great blessing, offering a joyful spiritual retreat into the presence of the beauty of words and, through them, into the presence of the beauty of the Word Himself." —
Joseph Pearce
, The Augustine Institute, editor of
Poems Every Catholic Should Know
and
Poems Every Child Should Know
"If the question is whether the poets in this anthology have a claim on serious readers of poetry, the answer is an engaging yes. One soon finds that these writers are more committed to art than they are possessed by politics. Their beliefs compel them to think as individuals. Their expression of faith is freshly realized, their experience full of discovery. In their moral seriousness, they tap wellsprings of emotion that may prove to be vitalizing for American literature. At their best, they have power to reverse the field's polarities, and to turn the charge of parochialism against the enforcers of ideological conformity. This is a collection well worth pondering." —
Lee Oser
, Professor of English, College of the Holy Cross; Immediate Past President, Association of Literary Scholars, Critics, and Writers
"The great twentieth-century poet Richard Wilbur described the work of poets—and perhaps the task of human beings in general—as "bearing witness / To what each morning brings again to light." Because God's mysterious ways, along with God's mercies, are new every morning, the task is ongoing. In Christian Poetry in America since 1940, Micah Mattix and Sally Thomas have made space for a wonderfully diverse cloud of witnesses who have taken up the task. The anthology has several virtues. The selection of poets is broadly representative and inclusive: there is room here for Roman Catholics and Episcopalians, Baptists and Mennonites, room for doubting Thomases and repenting Peters and irritated Jeremiahs, room for those whom hope eludes as well as for those whom joy surprises. And there is room for both formalism and open form poems, for tradition and experiment. The general introduction by Mattix concisely characterizes a history and carries it forward, while the individual introductions provided for each poet nicely focus the strengths of the selections as well as identifying where a reader might go for more by a particular poet. I'll be recommending the collection to my colleagues and students." —
William Tate
, Professor of English and Dean of Arts and Letters, Covenant College
"For the inestimable service of editing this vital and vervy little volume, Mattix and Thomas deserve our boundless gratitude. By introducing this happy freshet into our dessicated world, they water the inextricably intertwining vines of poetry and Christian faith both." —
Eric Metaxas
, author of 
Fish Out of Water: A Search for the Meaning of Life
"For those wishing to discover (or rediscover) and delight in the best of contemporary Christian poetry,
Christian Poetry in America Since 1940
serves as an indispensable guide. With helpful introductions and astute curation, editors Micah Mattix and Sally Thomas have served up a feast that will nourish skeptical students and serious scholars alike." —
Cherie Harder
, President of The Trinity Forum  
"The introduction by Micah Mattix makes a intriguing case for why every lover of poetry, regardless of creed, should be reading Christian poets, then the anthology serves up who you should read and where to start.  There are familiar names here, but also discoveries to be made. For would-be readers (and recommenders) of modern poetry, this book is an unexpected gift, one whose selections induce the strong reactions — often ecstatic, occasionally infuriating — that I, at least, want from verse." —J. Mark Bertrand, author of the Roland March Mysteries

"This anthology accomplishes several valuable tasks. First, it stands as Exhibit A in demonstrating the truth of Mattix's claim for a renaissance in Christian poetry. Second, given the range of poets, it will likely reacquaint you with some old friends and introduce some new ones. And third, its poems deepen our sense of the Christian life. 'O taste and see' the psalmist implores, and good poems help us do that. Drawing on the resources of poetry, these fellow pilgrims help us taste and see the Christian life in new ways as we share their struggles for and with and in faith." —Eric Potter, The Front Porch Republic