The Codependency Recovery Plan: A 5-Step Guide to Understand, Accept, and Break Free from the Codependent Cycle (Paperback)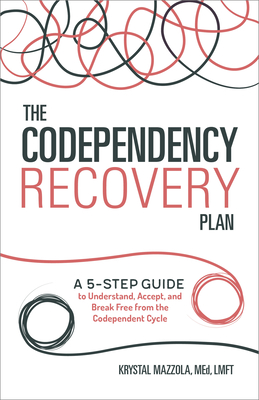 $16.99
Email or call for price
Description
---
Break away and recover from patterns of codependency
It could start as lending an occasional hand, but over time, escalates into putting someone else above everything else—even our own well-being. Balance is needed for healthy relationships with others and ourselves.
The Codependency Recovery Plan
presents an enlightening look at codependency, where it comes from, and a detailed pathway out.
The Codependency Recovery Plan
fully explains codependency, its symptoms, and the factors that contribute to its development. It offers guidance on ways to recognize codependent behavior, become a better communicator, set boundaries, mend romantic relationships, and raise your self-esteem. Chapter exercises provide a workspace for self-reflection so that you can see your situation with fresh eyes, and gain a new perspective on your own life.
Independence starts with a step-by-step plan:
Step 1: Get in Touch with Your "Self"—Learn to look inward and become self-reliant.
Step 2: Prioritize Self-Care—Honor and value your own self-worth and be kind to yourself.
Step 3: Build Boundaries—Set limits for giving your life and love to others.
Step 4: Maintain Open Communication—Speak comfortably and confidently with your support network.
Step 5: Nurture Intimacy—Create healthy and constructive connections.
Start building a better relationship with yourself and the people around you using
The Codependency Recovery Plan
.
About the Author
---
KRYSTAL MAZZOLA is a licensed marriage and family therapist who has been fascinated by relationships and the potential for positive change since she was a child. Having personally recovered from codependency, Krystal now provides individual and couples therapy to help others discover that recovery is real.
Praise For…
---
"What a terrific resource for every LMFT and therapist…this would make a wonderful addition to every therapy office's reading room, recovery institutes, rehab venues…Highly recommend."—April Braswell, CPC, Amazon reviewer

"Excellent, extremely helpful, well written, relatable, wise, with solid methods for codependency."—Rebecca, Amazon reviewer

"If you've ever wondered, 'Am I/Are we codependent?,' Krystal Mazzola's powerful, precise, and heartfelt book is for you. Drawing from her own personal struggles with codependency, as well as her clinical experiences working as a marriage and family therapist, Mazzola clarifies the often confusing ins and outs of codependency. She gently guides the over-functioner towards healthy boundary-setting, assertive communication, and a more complete sense of self."—Alicia Muñoz LPC, author of A Year of Us and No More Fighting