Ms. Adventure: My Wild Explorations in Science, Lava, and Life (Paperback)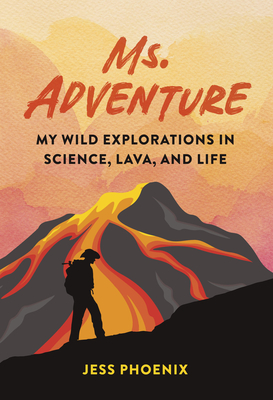 $18.99

Not in Stock... Available to ship in 3-5 days
Description
---
"Jess Phoenix's work encompasses science and representation in such a delightful melding that it could only come from as spry and playful a soul as hers! Open this book and jump into the volcano!" —Patton Oswalt

Volcanologist and natural hazards expert Jess Phoenix has dedicated her life to scientific exploration. Her career path—hard earned in the still male-dominated world of science—has shoved her headlong into deep-sea submersibles, congressional races, glittering cocktail parties at Manhattan's elite Explorers Club, and numerous pairs of Caterpillar work boots. It has also inspired her to devote her life to making science more inclusive and accessible.
 
Ms. Adventure follows Jess's travels and escapades through jungles, glaciers, undersea lava flows, and the summit of the world's largest volcano. We're with her as she gathers flowing lava by hand in Hawai'i, tangles with horse thieves in Peru, confronts Mexican drug cartel members over a favorite rock hammer, and camps on an active volcano in Ecuador. This riveting, rollicking journey across oceans and continents is a blend of personal memoir, daring adventure, and scientific exploration. It is a testament to Phoenix's belief that curiosity is everyone's birthright, and that with tenacity and intrepidness, we can all be explorers of the natural world.



 
About the Author
---
Jess Phoenix is the executive director and co-founder of the environmental scientific research organization Blueprint Earth. For over 12 years, she has been a volcanologist, an extreme explorer, and a professional field scientist. She ran for United States Congress in California to unseat a climate science-denying incumbent, running a true grassroots campaign with positions based in evidence and fact. She is a Fellow in the Explorers Club and Royal Geographical Society, a featured scientist on the Discovery and Science Channels, and an invited TEDx speaker.
 
Praise For…
---
"The sheer grit and tenacity displayed in Jess Phoenix's stories ensure their grip on the reader's attention. Geology and adventure enthusiasts will have a blast." —Publishers Weekly

"Jess Phoenix's journey has been tempered by volcanic fire, colored by international adventure, molded by a cast of champions and antagonists, and catalyzed by the revelatory nature of science itself. Her fantastical origin story—from a student of history to a polymathic, science-proselytizing rebel—is the very definition of atypical; a polemic against a life of comforting, forgettable ordinariness and a paean to the extraordinary combination of persistence and curiosity." —Dr. Robin George Andrews, Volcanologist and Science Journalist
 
"Geography itself is the unlikely hero of this exuberant memoir. Whether she is peeking into the top of an active volcano or trying to outwit the heat of the desert, Jess Phoenix brings her best game: the cunning of a detective, the soul of a poet and the open mind of a true explorer. It is pure joy to see the world through her endlessly curious eyes and to read about it in her crystal-clear prose." —Madeleine H. Blais, winner of the Pulitzer Prize in Feature Writing and author of In These Girls, Hope Is a Muscle, a National Book Critics Circle Award finalist

"The best nonfiction reads like fiction, and that's certainly true of Jess Phoenix's Ms. Adventure… Phoenix is a skilled writer and gifted storyteller with a startlingly ability to weave telling details into her narrative." —Mountain Times

"Not only will the inspiring spirit of the narrator captivate readers, but this book makes it clear why fields like volcanology matter today more than ever. Phoenix's gritty adventures and love for scientific exploration are made fully accessible to all, no matter your scientific background." —Shepherd Express