Updated Covid Information
Weller Book Works wants you to stay healthy.
For the health of our customers and staff,
WBW is continuing to require face masks or respirators in our store.
Disposable face masks are available if you do not have one.
Curbside pick-up and shipping services are available.
Staffing Shortfall
Dear Booklovers,
We will be CLOSED for in-person visits Sunday, January 23, 2022 due to a staffing shortfall.
You may still order books on this website for fulfillment Monday.
Please visit us again.
Brickmakers: A Novel (Paperback)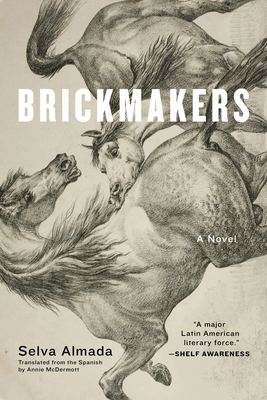 $16.00

Not in Stock... Available to ship in 3-5 days​
Description
---
A piercing and passionate novel, set in rural Argentina, about violence and masculinity

Oscar Tamai and Elvio Miranda, the patriarchs of two families of brickmakers, have for years nursed a mutual hatred, but their teenage sons, Pájaro and Ángelito, somehow fell in love. Brickmakers begins as Pájaro and Marciano, Ángelito's older brother, lie dying in the mud at the base of a Ferris wheel. Inhabiting a dreamlike state between life and death, they recall the events that forced them to pay the price of their fathers' petty feud.

The Tamai and Miranda f­amilies are caught, like the Capulets and the Montagues, in an almost mythic conflict, one that emerges from stubborn pride and intractable machismo. Like her heralded debut, The Wind That Lays Waste, Selva Almada's fierce and tender second novel is an unforgettable portrayal of characters who initially seem to stand in opposition, but are ultimately revealed to be bound by their similarities.

Almada enlarges the tradition of some of the most distinctive prose stylists of our time. In Brickmakers, she furthers her extraordinary exploration of masculinity and the realities of working-class rural life. This is another exquisitely written and powerfully told story by a major international voice.
About the Author
---
Selva Almada is the author of The Wind That Lays Waste and Dead Girls. She is considered one of the most potent literary voices in Argentina and Latin America and one of the region's most influential feminist intellectuals.


Annie McDermott is a literary translator working from Spanish and Portuguese. Her translations include Dead Girls by Selva Almada, Empty Words and The Luminous Novel by Mario Levrero, Loop by Brenda Lozano, and Wars of the Interior by Joseph Zárate.
Praise For…
---
"Such is Almada's command of shape and pace, and the clean-edged vigour of the style McDermott voices with such skill, that we take Brickmakers on its own uncompromising terms – as pulp, tragedy and epic all at once."—Boyd Tonkin, The Arts Desk (UK)

"Almada's breathtaking multigenerational tragedy is a haunting, unforgettable examination of the lasting consequences of careless inhumanity."—Terry Hong, Shelf Awareness, starred review

"With its surprises and lyricism, this is a successful riff on a classic Shakespearean tale."—Publishers Weekly

"Almada is forceful in her depictions of sex, violence, and rage. I feel her prose in my body: a punch in the gut, the sharpness of glass. McDermott's translation captures the bite of Almada's sentences, which render both tenderness and violence with devastating clarity."—Morgan Graham, Chicago Review of Books