Sentence Diagramming 101: Fun with Linguistics (and Movies) (Paperback)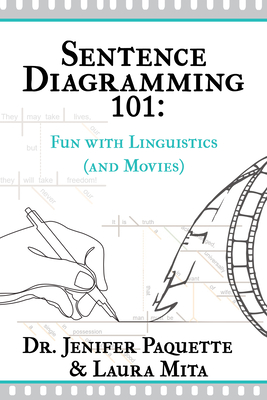 $32.99

Not in Stock... Available to ship in 3-5 days
Description
---
"A surprisingly fun jaunt into the convoluted wilds of the English language "
Sentence Diagramming 101: Fun with Linguistics (and Movies) explores the relationship between words using traditional sentence diagramming and amusing movie references. Inside this textbook, you'll find detailed explanations as well as 50+ film-focused practice exercises, and on the companion website, you can explore the answer key, informative videos, additional practice, and lively discussions about the English language.
One abiding question often accompanies any discussion of traditional sentence diagramming (Reed & Kellogg): does sentence diagramming create better writers? This book's answer: Maybe. If you think of the English language as a car, think of this book as a look under the proverbial hood of the language. Someone may know the names of all the parts and how they work together to make the vehicle move when the gas pedal is held down-but does that knowledge create a better driver? Perhaps. Perhaps not. Perhaps that driver will explain spark plugs while they drive straight off a cliff.
Such is also true of writing. English can be messy, filled with archaic bolts and cobbled coils, but somehow, it still manages to get users where they want to go. Hop in and enjoy the ride
A great primer for writers, word enthusiasts, and those seeking to understand the fundamentals of English grammar, this textbook breaks down complicated ideas into digestible pieces.
Topics include:
- The Basics: Parts of Speech and Word Function
- Sentence Patterns
- Phrases, Verbals, and Clauses
- Sentence Types
- Weirdness: Questions, Commands, Expletives, Poetry, Made Up and Repeated Words
Additional features:
ADA Compliant
Free Companion Website with Video Overviews, Answer Keys, Practice Explanations, Additional Practice, and Language-
Focused Discussions.