Bread and Circus (Hardcover)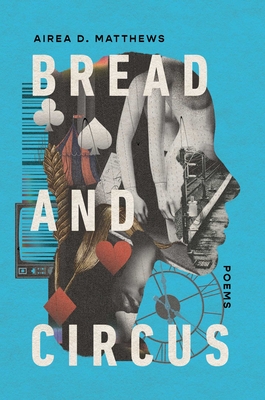 Description
---
"Discerning and significant." —Poetry Foundation
"A sharp memoir in verse." —LitHub

This powerful and timely collection of autobiographical poems from Yale Young Poets Award Winner and Philadelphia's former Poet Laureate Airea D. Matthews about the economics of class is a brilliant intellectual and artistic contribution to the ongoing conversation about American inequality.

As a former student of economics, Airea D. Matthews was fascinated and disturbed by 18th-century Scottish economist Adam Smith's magnum opus The Wealth of Nations. Now, she presents a direct challenge to Smith's theory of the invisible hand, which claims self-interest is the key to optimal economic outcomes. By juxtaposing redacted texts by Smith and the French Marxist Guy Debord with autobiographical prose and poems, Bread and Circus personally offers how self-interest fails when it reduces people to commodity and spectacle.

A layered collection to be read and reread, with poems that range from tragic to humorous, in forms as varied and nuanced as the ideas the book considers, Bread and Circus asks what it is to have survived, indeed to have flourished, and at what cost. "Full of humane wisdom, this powerful volume forces readers to acknowledge systemic inequity" (Publishers Weekly, starred review) and is ideal for fans of Elizabeth Alexander, Natalie Diaz, Eve Ewing, and Gregory Pardlo.
About the Author
---
Airea D. Matthews was Philadelphia's 2022–2023 poet laureate. Her first collection of poems is the critically acclaimed Simulacra, which won the 2016 Yale Series of Younger Poets Award. Her work has appeared in Harper's Bazaar, Poetry, The New York Times, Gulf Coast, VQR, Best American Poets, American Poet, LitHub, Harvard Review, and elsewhere. Matthews holds a BA in economics from the University of Pennsylvania as well as an MFA from the Helen Zell Writers' Program and an MPA from the Gerald Ford School of Public Policy, both at the University of Michigan. A Pew fellow, she is an associate professor and codirector of the creative writing program at Bryn Mawr College.
Praise For…
---
"The reigning Poet Laureate of Philadelphia packs heart and humor into this collection of autobiographical poems while taking a scalpel to the idea of a benevolent free market."—Philadelphia Magazine

"This discerning and significant collection presents a tender resistance to commodification by straight lines ('Indecisive. Afraid'), controlled images ('copious selfies'), and colonial stories ('tidy myths')."—PoetryFoundation.org

"A vigorous and personal refutation of late-stage capitalism…Full of humane wisdom, this powerful volume forces readers to acknowledge systemic inequity."—Publisher's Weekly (starred review)

"In her stunning collection Bread and Circus, Airea Matthews uses a bricolage of citations and erasure to reflect on the epigenetic costs of Black dispossession in a country founded on self-interest. Bread and Circus is an authentic journey of enduring love and witness. It is sonorous, erudite, raw--and one that will stay with me always."—Cathy Park Hong, author of Minor Feelings

"When sinking into the work of Airea Matthews within Bread and Circus, 'gratitude,' is the word that most eagerly leaps to mind. I am grateful to be witness to a writer dismantling the boundaries of form, shape, and language, while not sacrificing any brilliance on the page. This is a stunning collection of work, which feels both ahead of its time and also abundantly on time."—Hanif Abdurraqib, author of The Little Devil in America

"From page to unrelenting page in this fierce and brilliant book, Airea Matthews shows us just how high the stakes of poetry should be. If you are not writing to save your life, you are not writing in Airea Matthews' league. That simple. Her vision is encompassing: what are the systems that subordinate us to their own perpetuation? Her vision is intimate: where, then, are our opportunities for grace? If these beautiful poems are to be believed, that grace is to be found, or rather forged, against all odds, at every turning. That is the scale of the achievement here."—Linda Gregerson, author of Canopy

"Like all crowning collections in an oeuvre, this book enacts, with tenderness and intelligence, an erudition that matches the capacious love of its ambitions. Formally ambidextrous, teethed with wit and uncompromising dignity, Matthews engages the archive as a breathing document, refusing to let history be done with itself, and thereby accomplishes what I love most about poetry—especially hers—that it lives, is living."—Ocean Vuong, author of Time is a Mother

"Roman poet Juvenal criticized a public distracted with free wheat and mindless entertainment. Toni Morrison said the point of racism is to keep us distracted from fully living our lives. With the genius and ferocity of mother love, Airea Matthews's Bread and Circus shreds our expectations of what poems can be and do while clearing the air of the illusions that cloud our understanding of past, present, self and other. Lift the cover and breathe in the clarity concentrated on these pages."—Gregory Pardlo, author of Digest