Pulling the Chariot of the Sun: A Memoir of a Kidnapping (Hardcover)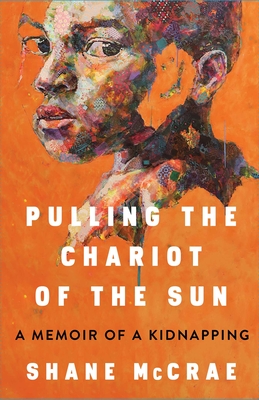 Description
---
An unforgettable, "lyrical and poignant" (The Washington Post) memoir by an award-winning poet about being kidnapped from his Black father and raised by his white supremacist grandparents.

When Shane McCrae was three years old, his grandparents kidnapped him and took him to suburban Texas. His mom was white and his dad was Black, and to hide his Blackness from him, his maternal grandparents stole him from his father. In the years that followed, they manipulated and controlled him, refusing to acknowledge his heritage—all the while believing they were doing what was best for him.

For their own safety and to ensure the kidnapping remained a success, Shane's grandparents had to make sure that he never knew the full story, so he was raised to participate in his own disappearance. But despite elaborate fabrications and unreliable memories, Shane begins to reconstruct his own story and to forge his own identity. Gradually, the truth unveils itself, and with the truth, comes a path to reuniting with his father and finding his own place in the world.

A revelatory account of an American childhood that hauntingly echoes the larger story of race in our country, Pulling the Chariot of the Sun is written with the virtuosity and heart of one of the finest poets writing today. A powerful reflection on what is broken in America—this is "an essential story for our times" (Hilton Als, Pulitzer Prize–winning author of White Girls).
About the Author
---
Shane McCrae is the author of several books of poetry, including In the Language of My Captor, which was a finalist for the National Book Award, the Los Angeles Times Book Prize, and the William Carlos Williams Award; Sometimes I Never Suffered, shortlisted for the T.S. Eliot Prize; and his most recent collection, The Many Hundreds of the Scent. McCrae is the recipient of a Whiting Award, a National Endowment for the Arts Literature Fellowship, a Lannan Literary Award, and a Guggenheim Fellowship. He teaches at Columbia University and lives in New York City.
Praise For…
---
"Like many accomplished memoirs that have followed from St. Augustine's pioneering Confessions, McCrae's explores memory's uncertain contours, but like few memoirs before it, Pulling the Chariot of the Sun offers the experience, in prose, of that uncertainty. . . . [his memoir is] a portrait of a poet as a young Black man—a boy raised in a particular crucible of capture that, as part of its power, enacts the American story of seizure and captivity of Black people by white tormentors." —The New York Times Magazine

"Lyrical and poignant . . . McCrae, an award-winning poet, paints a striking depiction of his childhood trauma and the depths of his desire to understand and heal." —The Washington Post

"A singular story that's also a universal truth in our country, told in beautifully poetic prose." —Good Housekeeping, One of the Most Anticipated Fall Books of 2023

"Intricately wrought and unrelenting in its honesty… the text sings with a gorgeously wrought tension… original and satisfying." —Kirkus

"Shane McCrae's powerful, indelible poet's voice has now extended to the memoir, and how fortunate are we that the very things that distinguish his verse—truth-telling, sharp observation, more than a sense of the moment, profundity worn lightly—grace his harrowing and enlightening tale about race, and what makes an American family, and why. An essential story for our times." —Hilton Als, Pulitzer Prize-winning author of White Girls

"Pulling the Chariot of the Sun is the kind of story that pulls you right in with its voice, the kind of book that sways you with heart-wrenching honesty and beautiful music. There is something magnetic to this story-telling, which gives us an incantation of memory that is as moving as it is spell-binding. For what tears up the family in this book is what tears up this country still, prevents it from finding itself. McCrae's voice is vulnerable and direct and precise, the voice of a poet who teaches us again what musical prose can do. This is such a compelling and necessary book." —Ilya Kaminsky, author of Deaf Republic

"Pulling the Chariot of the Sun is a memoir, and a poem, and a story, and a collection of songs about identity and personal history and place and time and race and America: but any description of it, any attempt to confine it within the boundaries of genre or form, is doomed to failure. This is a singular book. McCrae writes like a fencer, tracing indelible figures in the reader's mind: a child in a fabric store, a car in a rainstorm, a wild hideaway between buildings in a subdivision. It's a book by a man who was kidnapped as a child, and raised by his kidnappers, and no further attempt to describe what's in these pages can prepare the reader for the hardness of the story nor the dazzling light of McCrae's prose. We live in a glut of memoir. McCrae's book will endure long after the glut has subsided." —John Darnielle, author of Devil House

"Shane McCrae's extraordinary memoir is a kinaesthetic feat in the art of remembering, a complex layering of, and a laying bare of, the trauma of a stolen Black identity. Each meticulous, mellifluous, sentence charts a journey with multiple detours, dead ends and unexpected destinations. It is befitting that catharsis comes through language itself, the language of poetry. Ambitious and profound, this book will leave an indelible imprint on the mind of the reader. " —Patience Agbabi, author of Telling Tales

"A precise articulation of memory, its making and unmaking, McCrae's book is a vivid, churning, and compulsive account of one man's personal reckoning with race, prejudice, and the ideologies that haunt modern America. Written with a sharp and constantly-searching language, Pulling the Chariot of the Sun is as acute in its thinking as it is brave in its emotional charge." —Seán Hewitt, author of All Down Darkness Wide

"A moving, slippery and imagistic prose memoir by one of my favourite lyric poets writing today." —Raymond Antrobus, author of The Perseverance