AMHARIC 9Introduction of the 9Mind She'an Caddy Alemayehu Tewodros The Great Grand Son of Prince Alemayehu Tewodros: In Search of Leul Alemayehu Tewod (Hardcover)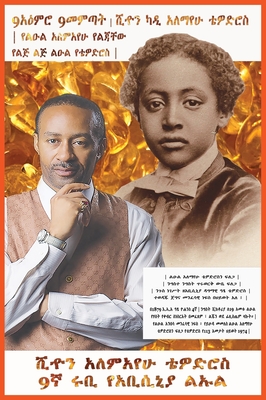 Description
---
(OVER 150 PHOTOGRAPHS COLOR BLACK & WHITE)
AMHARIC 9Introduction of the 9Mind She'an Caddy Alemayehu Tewodros The Great Grand Son of Prince Alemayehu Tewodros In Search of Leul Alemayehu Tewodros In Search of Empress Negest Tiruwork Wube Emperor King Tewodros II Of Abyssinia The Beloved Warrior Spiritual Soul Is Alive
The Journey of Sean Caddy Alemayehu Tewodros in search of his family of Royal Bloodline in Ethiopia. He was raised in Champaign, Illinois. Upon his return home from Iraq in August 2007. Sean would be told critical family secrets that will take him all the way back to Queen Victoria of England's United Kingdom to his Great Grand Father Prince Alemayehu Tewodros of Abyssinia.
Who is this Prince Leul Alemayehu Tewodros? He is the Heir and Son Of Emperor King (Atse Negus) Tewodros II of Abyssinia. He Lived In America And Palestine (Israel) He Passed Away 1974 In Champaign Illinois At The Age Of 113 Years Old.
Sean Alemayehu Tewodros Linzy's Mind At This Point Was Of One Hundred And Twenty Years Old. Though He Were A Son, Yet He Learned Obedience By The Things Which He Suffered; And Being Made Perfect, He Became The Author Of Eternal Salvation Unto All Them That Obey Him. While Sean Alemayehu Tewodros Linzy Was In Abyssinia, Ethiopia, He Experienced Many Changes And Growth Allowing Him To Become A Part Of Abyssinia, Ethiopian History Along With Its Citizens. He May Have Been American, But He Was Falasha, Beta Israel And Abyssinia In Origin."