The Baby and Toddler Cookbook: Fresh, Homemade Foods for a Healthy Start (Hardcover)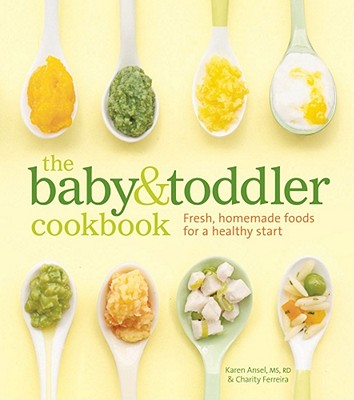 Description
---
Give your baby or toddler the best start in life and help them grow up healthy, happy, and strong with delicious, homemade foods. The Baby & Toddler Cookbook is packed with 90 easy-to-prepare recipes made with wholesome ingredients.


Along with its companion volume, Baby and Toddler On the Go, The Baby and Toddler Cookbook offers a fresh and nutritious approach to feeding children from 6 months to 3 years.

Making fresh, homemade meals for your baby and toddler is one of the best ways to give him a healthy, happy start in life. And while every parent can appreciate the convenience of already-prepared foods, balancing them with wholesome meals you have prepared yourself not only provides better nutrition, but also teaches your baby good eating habits. Packed with over 90 recipes and loads of nutritional information, The Baby & Toddler Cookbook makes cooking healthy meals easy, even for busy parents. By setting aside only a few hours a week, you can make and store an array of nutritious foods to keep baby happy and fed. All along the way, this book will give you helpful hints, guidance, and plenty of recipes to ease your path to nutrition.

Each chapter begins with detailed information about the child's nutritional needs and how to address the needs at mealtime. Organized by age, the recipes follow, showing how to introduce different, appropriate foods at every development stage, from 6 months to 3 years. Each of baby's stages is covered, from starting solid foods and introducing new ingredients and textures, to easing into toddlerhood with plenty of ideas for fun meals, snacks, and desserts. This book also includes tips for making foods ahead, using the freezer to maximum advantage, and making food fun for your toddler.

Selected recipes include:
-Sweet Potato Puree
-Creamy Pumpkin Risotto
-Apple-Cinnamon Oatmeal
-Tofu, Rice & Avocado
-Almond Butter & Banana Bites
-Chicken & Veggie Pockets


About the Author
---
Karen Ansel, MS, RD, is a registered dietitian and freelance writer specializing in health, wellness, food, and nutrition. Her work has been published in national women's heath magazines such as Family Circle, Woman's Day, Cooking Light, Fitness, Prevention, Shape, Weight Watchers, Natural Health and Marie Claire. Karen is the New York City media representative for the New York State Dietetic Association and a contributing editor for Woman's Day magazine. She received her B.A. from Duke University and her Master's in clinical nutrition from New York University. Karen lives in Long Island, New York, with her husband and two children.

Charity Ferreira is a food writer, recipe developer, and former pastry chef whose work has appeard in Gourmet, Cooking Light, Sunset, and Bon Appetit, as well as the food section of the Los Angeles Times. A graduate of the California Culinary Academy, she turned her lifelong interest in food and nutrition to baby and toddler cuisine when her son and twin nieces were born. She is the author or co-author of five cookbooks including Williams-Sonoma Essentials of Mediterranean. She and her family live in the San Francisco Bay Area.

Thayer Allyson Gowdy is a San Francisco–based photographer who has been featured in numerous magazines, including Martha Stewart Living, Real Simple, InStyle Home, and Parents, and in such books as Healthy Baby and Pattern Prints.