The Death I Gave Him (Hardcover)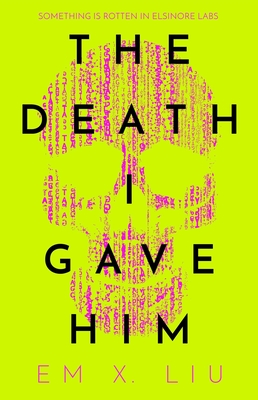 Description
---
A lyrical, queer sci-fi retelling of Shakespeare's Hamlet as a locked-room thriller

A Twenty-First Century Hamlet.

Hayden Lichfield's life is ripped apart when he finds his father murdered in their lab, and the camera logs erased. The killer can only have been after one thing: the Sisyphus Formula the two of them developed together, which might one day reverse death itself. Hoping to lure the killer into the open, Hayden steals the research. In the process, he uncovers a recording his father made in the days before his death, and a dying wish: Avenge me…

With the lab on lockdown, Hayden is trapped with four other people—his uncle Charles, lab technician Gabriel Rasmussen, research intern Felicia Xia and their head of security, Felicia's father Paul—one of whom must be the killer. His only sure ally is the lab's resident artificial intelligence, Horatio, who has been his dear friend and companion since its creation. With his world collapsing, Hayden must navigate the building's secrets, uncover his father's lies, and push the boundaries of sanity in the pursuit of revenge.
About the Author
---
Em X. Liu is a writer and recent biochemistry graduate, which means they love stories about artificial intelligence and Shakespeare in equal measure. Since immigrating to Canada, they never go long without hopping on a plane to wander new places. But out of all the cities they've been to, they still love their home in Toronto the most.
Praise For…
---
"Shakespeare, a haunted-house escape room, and a plot full of tenderness, philosophy, brazenness, and terror"—C. S. E. Cooney, author of Saint Death's Daughter

"Liu's exquisite prose perfectly marries physicality and emotionality, the visceral and the sterile. This is Hamlet reflected in a fractured mirror. Every angle on the familiar comes as a surprise; every new edge cuts with razor intelligence. And oh, the tension! It will murder you."—Shelley Parker-Chan, author of She Who Became the Sun

"A breathless, piercingly immersive Hamlet reimagining that feels at once futuristic and timeless. Each scene is layered with creeping dread and tension that builds masterfully to a harrowing climax. This is the kind of story that will be crawling at the edges of your brain like static for a long while."—Ren Hutchings, author of Under Fortunate Stars

"Don't tell anyone.... I've always been kinda lukewarm about Hamlet. But The Death I Gave Him finally gives me a Prince of Denmark I can feel: someone whose pain and brokenness are so powerful and beautiful that they can change the world."—Sam J. Miller, author of Kid Wolf and Kraken Boy

"Blazingly ambitious, immaculately written, imaginative, and oh goodness, I can absolutely keep going. The Death I Gave Him is the locked-room murder mystery queer Hamlet retelling of my dreams."—Cassandra Khaw, author of The Salt Grows Heavy

"The Death I Gave Him is the Hamlet retelling of my wildest dreams, and Liu's prose cuts like a scalpel: precise, unflinching, unafraid to draw blood. Read this book, and then read it again."—Grace D. Li, author of Portrait of a Thief

"This is both a locked-room mystery with some pointed things to say about science, hubris and mortality, and one of the best versions of Hamlet I've ever come across. Smart, wildly propulsive, and tense as a muscle held at the snapping point. After this, I'll read anything Liu cares to put in front of me."—Freya Marske, author of The Last Binding Trilogy

"Brilliant. Breath-taking. An absolute page-turner. The Death I Gave Him is a complex and gritty story unlike anything you've seen."—K.B. Wagers, author of The Ghosts of Trappist

"Ingenious … This is a nail-biter."—Publishers Weekly, starred review

"Clever in structure and reinterpretation – very nearly too clever, but it finds a tense, riveting balance."—GQ

"This is a fantastic and innovative retelling."—Library Journal

"A bludgeoningly emotional read."—The Fantasy Hive

"A fast-paced thriller that will keep you guessing at every turn."—Them

"Compellingly readable and unreservedly commendable."—The FT

"Solid and smartly-drawn, The Death I Gave Him shines."—Set The Tape

"Addictive and nuanced… an intelligent evolution of a classic."—SciFiNow