COVID-19
Weller Book Works is closed to the public. But Catherine and Tony are working behind closed doors to keep the store ready to open when we're able.
We're still taking and filling orders via this website for new books or Biblio for used and rare books. At this time we can offer curbside pick-up or shipping only.
We are unable to consider used book offers until after we re-open to the public.
The Xenofeminist Manifesto: A Politics for Alienation (Paperback)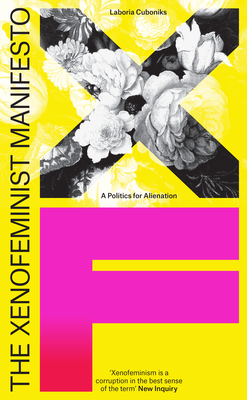 Description
---
A pocket color manifesto for a new futuristic feminism
Injustice should not simply be accepted as "the way things are." This is the starting point for The Xenofeminist Manifesto, a radical attempt to articulate a feminism fit for the twenty-first century.
Unafraid of exploring the potentials of technology, both its tyrannical and emancipatory possibilities, the manifesto seeks to uproot forces of repression that have come to seem inevitable—from the family, to the body, to the idea of gender itself.
If nature is unjust, change nature!
About the Author
---
Laboria Cuboniks (b. 2014) is a xenofeminist collective spread across five countries. She seeks to dismantle gender, destroy "the family," and do away with nature as a guarantor of inegalitarian political positions.
Praise For…
---
"Xenofeminism is a corruption in the best sense of the term."
—New Inquiry

"XF is like the Communist Manifesto for the twenty-first century. Really. That. Good."
—Mark Fisher, author of Capitalist Realism

"Xenofeminism's fierceness and compassion (qualities too often opposed) are a compelling proposition."
—Leni Zumas, Times Literary Supplement