Unearthing the Underworld: A Natural History of Rocks (Hardcover)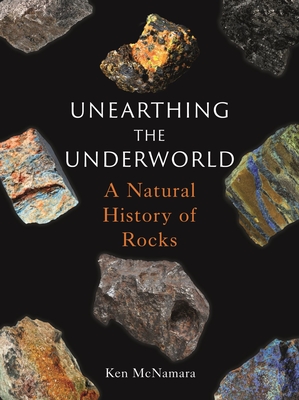 $25.00

Not in Stock... Available to ship in 3-5 days
Description
---
A geological saga that digs deep, revealing how even the most ordinary rocks can be stepping stones to the hidden history of our planet.
 
Unearthing the Underworld reveals the hidden world of rocks—the keepers of secrets of past environments, changing climates, and the pulse of life over billions of years. Even the most seemingly ordinary stone can tell us much about the history of this planet, opening vistas of ancient worlds of ice, raging floods, strange unbreathable atmospheres, and prehistoric worlds teeming with life. Remarkably, many types of rocks owe their existence to living organisms—from the remains of bodies of dead animals to rocks formed from rotting ancient forests, or even created by the activity of fungi, bacteria, and viruses. Anything but dull and uninteresting, rocks are intriguing portals that illuminate the secret underworld upon which we live.
About the Author
---
Ken McNamara is a paleontologist, former director of the Sedgwick Museum, and emeritus fellow of Downing College at the University of Cambridge. He is the author of Shapes of Time.
Praise For…
---
"McNamara finds incredible worlds preserved in stones we tend to ignore as he explores life's rocky roads."
— New Scientist

"Earth scientist McNamara focuses on palaeontology and evolution. His appealing book about rocks and their lessons—illustrated with fine photographs of fossils—leaves aside igneous and metamorphic rocks, and the wonders of mineralogy. It concentrates instead on sedimentary rocks: mudstones, siltstones, sandstones and limestones, scattered over three-quarters of Earth's surface in 'endless piles.' As he jokily advises: 'Ignore rocks at your peril.'"
— Nature

"Earth's early history is writ large in the stories encapsulated in cliffs, roadsides, seaside quarries, and wherever the underworld has reached the light, McNamara contends, likening rocks to fascinating little books."
— Explorers Journal

"Illuminating. . . McNamara (Dragons' Teeth and Thunderstones) explores how sedimentary rocks form and what they can teach about the evolution of life on Earth."
— Publishers Weekly

"What does McNamara's Unearthing the Underworld add to an already busy bookshelf? The answer lies in the subtitle: A Natural History of Rocks. McNamara attempts to tell us, through rocks, about how life and Earth coevolved over the last four billion years or so. . . . In summary, this is a brave attempt to write a popular book about the origin of sedimentary rocks and what they tell us about past and present life on Earth. . . . If you are interested in life, landscape and the environment, it is a must-read. And the lavish colour illustrations help bring these lifeless rocks to life."
— Critic

"An idiosyncratic and informative celebration of the rocks that underlie our human world, showing how they record the history of the planet and underpin the narrative of life, even though their role is too often unacknowledged. Engrossing field excursions into the wildernesses of Western Australia illuminate the stories McNamara has to tell; he explains the lithic histories embedded in everything from prehistoric monuments to the Stone of Scone. The dramas of the early history of life, extinction, evolution and climate change are all deciphered through the rock record. These wise and entertaining 'sermons in stones' pay proper respect to the billions of years of earth history that lie beneath us everywhere."
— Richard Fortey, author of "The Earth: An Intimate History"