Gotrek and Felix: The Fifth Omnibus (Warhammer Chronicles) (Paperback)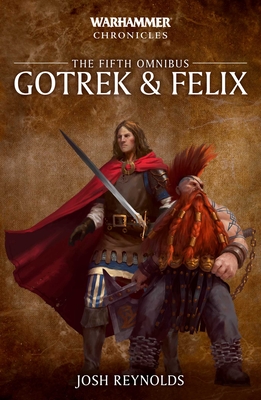 $21.00
Email or call for price
Description
---
Follow the next steps of the much loved Black Library characters Gotrek and Felix...

Gotrek and Felix: unsung heroes of the Empire, or nothing more than common thieves and murderers?
The truth perhaps lies somewhere in between, and depends entirely on whom you ask…

Racing towards the besieged dwarf hold of Karak Kadrin, Gotrek and Felix battle to thwart the brutal leader of a Grand Chaos army, Warlord Garmr. Upon arriving, the infamous duo is charged by Ungrim Ironfist with a suicidal task: to prevent the creation of a portal to the Realm of Chaos itself. On another quest, far away in the vast deserts of Nehekhara, Gotrek and Felix are captured by the undead Queen Khalida and forced to fight her enemies across the sun-baked Land of the Dead. But, as the unlikely pair are swiftly reminded, the dead do not stay buried for long...

Collecting Road of Skulls and The Serpent Queen, plus four novellas and a number of bonus short stories, Gotrek and Felix: The Fifth Omnibus is packed with fantasy adventure.
About the Author
---
Josh Reynolds' extensive Black Library back catalogue includes the Horus Heresy Primarchs novel Fulgrim: The Palatine Phoenix, and three Horus Heresy audio dramas featuring the Blackshields. His Warhammer 40,000 work includes the Space Marine Conquests novel Apocalypse, Lukas the Trickster and the Fabius Bile novels. He has written many stories set in the Age of Sigmar, including the novels Shadespire: The Mirrored City, Soul Wars, Eight Lamentations: Spear of Shadows, the Hallowed Knights novels Plague Garden and Black Pyramid, and Nagash: The Undying King. He has written the Warhammer Horror novel Dark Harvest, and novella The Beast in the Trenches, featured in the portmanteau novel The Wicked and the Damned. He has recently penned the Necromunda novel Kal Jerico: Sinner's Bounty. He lives and works in Sheffield.