Shibari for Beginners: Beginner's Guide to Mastering the Art of Kinbaku and Japanese Rope Bondage - Complete with Pictures of Every Step of E (Paperback)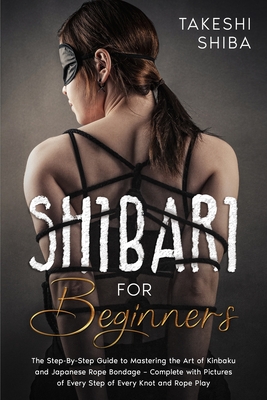 $16.95
Email or call for price
Description
---
Discover the Pleasures of Kinbaku and Spice Up Your Sex Life With the Help of Japanese Rope Bondage.
Do you feel like spicing up your sex life? Are you yearning for something erotic and sexy in your bedroom?
If so, you should try kinbaku/shibari or Japanese rope bondage. Sensual and provocative, kinbaku is the perfect way to introduce something new to your bedroom. This practice originated in Japan more than 12000 years ago as a means of restraint and torture. During the past few hundred years, it evolved into something completely new. Kinbaku evolved into a stimulating activity that pleasures all senses.
Discover the art of kinbaku and break your sex life's monotony and introduce pleasures that you never experienced before.
The sexy and beautiful bondage techniques are guaranteed to bring steamy hotness to your bedroom and overload your senses with immense pleasure. But beware - there is a thin line between okay and mind-blowing sex, but it's not easy to achieve that - unless you have proper guidance.
Surprise yourself (or your partner) with creative and erotic pleasures that are guaranteed to leave them gasping and yearning for more.
The book contains a complete guide on shibari/kinbaku, with illustrations and step-by-step instructions so that you can master the art of bondage in no time - perfect for beginners.
Here's what this Japanese rope bondage guide can offer you:
The ropes of kinbaku techniques
Detailed instructions for steamy rope play
Step-by-step guides with illustrations for most stimulating rope ties
Pictures of every knot and ligature so you'll always know what to do next
Tips and tricks to boost pleasure and stimulation
And much more
If you want to feel the pleasures you never felt before, all you have to do is to follow the step-by- step instructions found in this book. Discover the new dimension of erotic pleasure with naughty and stimulating bondage games.