How to Fix the Planet (When You're a Teenager): A simple guide to changing habits that can help fix the planet (Paperback)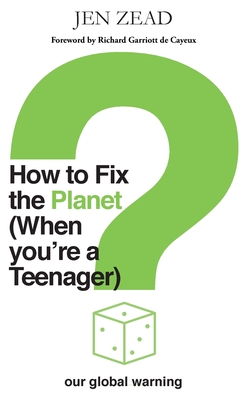 $11.99

Not in Stock... Available to ship in 3-5 days​
Description
---
A nugget of a book with personality, a little sass and lots of common sense. A simple guide to changing habits that can help fix the planet.
When the environmental protesting is done and people head back home, do they make changes to their lives, that can help the environment, or are there habits that they don't know how to break? Well, the answer is to read 'How to fix the Planet (When you're a Teenager)'.
This little treasure of a book, written by one of their number, tells you exactly what you can do. It will not change your life, because the hints are so straight forward and forehead slapping, but they will have a BIG impact on the environment. Jen Zead shows you, through weekly tasks and checklists, how small acts of consideration, have a big impact on the planet.
From recycling, to thrift shopping, palm oil to microplastics, she educates and stimulates a new wave of consciousness. Through extensive research and fact checking from some eminent specialists, she has created this gift for us all.
The book is written in a simple and punchy way, without agenda, bias or mystification. It speaks of the authors extreme attempts to be completely green and how through failing, she found simple, less exhaustive solutions. She places no guilt, just straight forward talking and shows us all, that you don't need to be wrinkly, to be wise.