Beasts & Creatures Myths & Tales: Epic Tales (Gothic Fantasy) (Hardcover)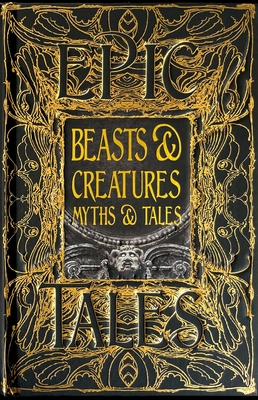 $30.00
Email or call for price
Description
---
Mythological beasts and creatures come in every shape and size, sometimes good, sometimes evil, but often indifferent to the needs of humankind. A beautiful new collection of tales from many different traditions: Norse to Celtic, Greek to Indian, Japanese to Egyptian.

With their weird combination of animal limbs, or distorted visions of human perception, beasts and creatures can be found in all myths and legends of the world, often used to demonstrate moral or fabulistic stories, and explain extreme natural phenomena. An ideal companion to Gods & Monsters Myths & Tales, this new collection includes more of the most famous and recognizable beasts, with some insight too into the rare and the little known: the Simurgh – the gigantic mythical bird of Persian mythology and literature – mingles with the monstrous Great Head of Iroquois folklore; the Kraken of originally Scandinvavian legend can be found alongside North America's Bigfoot, or Sasquatch if you prefer. Of course, from the Greek and Celtic mythologies come the Phoenix, Scylla and Charybdis, the Unicorn, Satyrs and Fauns, Centaurs and Minotaurs, the Basilisk and the Griffin. And let's not forget the goblins of the Norse, the ogreish monsters of Japanese mythology, the Oni, and the nymphs, fairies and sprites that appear in many different mythological traditions. This truly is a wonderful collection of tales.

The Flame Tree Gothic Fantasy, Classic Stories and Epic Tales collections bring together the entire range of myth, folklore and modern short fiction. Highlighting the roots of suspense, supernatural, science fiction and mystery stories the books in Flame Tree Collections series are beautifully presented, perfect as a gift and offer a lifetime of reading pleasure.
About the Author
---
Tok Thompson is Professor of Anthropology at the University of Southern California. Born and raised in rural Alaska, he graduated from Harvard before gaining his MA and PhD at the University of California, Berkeley, studying under the late great folklorist Alan Dundes. He has published numerous articles and books on world folklore and mythology.