Updated Covid Information
Weller Book Works wants you to stay healthy.
For the health of our customers and staff,
WBW is continuing to require face masks or respirators in our store.
Disposable face masks are available if you do not have one.
Curbside pick-up and shipping services are available.
Staffing Shortfall
Dear Booklovers,
We will be CLOSED for in-person visits Sunday, January 23, 2022 due to a staffing shortfall.
You may still order books on this website for fulfillment Monday.
Please visit us again.
Challenge Everything: An Extinction Rebellion Youth Guide to Saving the Planet (Paperback)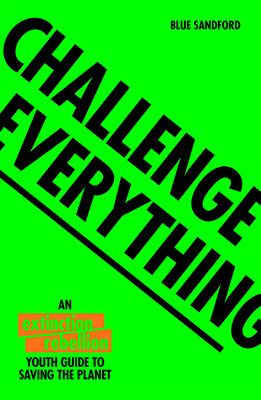 Description
---
A call to action from an inspiring young environmental activist

Written by the coordinator of Extinction Rebellion Youth London, this book asks the reader to challenge everything. Challenge big business. Challenge government. Challenge yourself. This is no greenwashing book--it's a call to action. A manifesto for how young people can help to save the planet by questioning everything about modern life and acting upon their conclusions.

Included is advice on how to stop following the rules and take control as a consumer, challenging big business. The book also covers how to take direct action, challenge the government and support other groups fighting the same fight. It will help the reader to change their mindset, become independent, question everything, and challenge themselves.
About the Author
---
Blue Sandford was born in 2002. She is the coordinator for Extinction Rebellion Youth London and lives in London with her family and six cats. Sandford was described as a "British Greta Thunberg" and one of "the UK's most impressive young activists" by The Times in December 2019. Find out more about Extinction Rebellion Youth at
xryouth.org.