Curiositree: Human World: A visual history of humankind (Hardcover)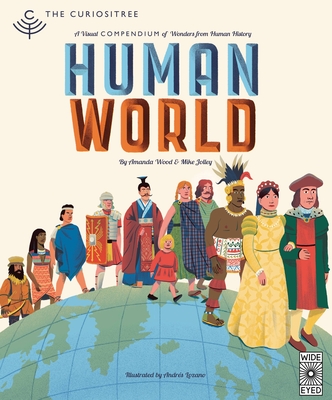 Description
---
Choose your own learning adventure with Curiositree, a new series of visually compelling information charts. Discover the myriad reasons why humans have become the most successful species on the planet in this fascinating complete visual history of mankind. Travel from our earliest beginnings to the modern day, and discover how our evolution is interconnected by following the arrows that link to charts on related topics throughout the book. Exploring the development of farming, the origins of writing, religion, trade, weapons and armor, the first cities, and the growth of technology in the modern age, this visual compendium of wonders from the mind of man is full of fascinating information for curious young readers.
About the Author
---
Amanda Wood began her career in illustration at the Natural History Museum in London, and went on to be the founding Editor and Publisher of Templar for more than 30 years. In her time there, she published and nurtured numerous Greenaway winners, and edited and wrote groundbreaking series such as The Ologies, which have sold over 19 million-copies worldwide. Today she writes and runs her own small press from her home in Surrey.
Mike Jolley has worked as an Art Director in children's books for over 25 years. He also sells artwork made from found objects, under the name 'Box 2'. It was during one of his many junk shop visits that the idea of using midcentury school information charts for Curiositree first took shape. He lives on a cliff overlooking the English Channel.
ANDRES LOZANO is an illustrator from Madrid, who currently lives in London. He lists his inspirations as nature, architecture, Franco-Belgian comics and film noir. His work is characterised by overlayed colors, textures and strong line work. He has worked with The Wall Street Journal, The New York Times, The Sunday Times, and Anorak.