Hillbilly Nationalists, Urban Race Rebels, and Black Power: Community Organizing in Radical Times (Paperback)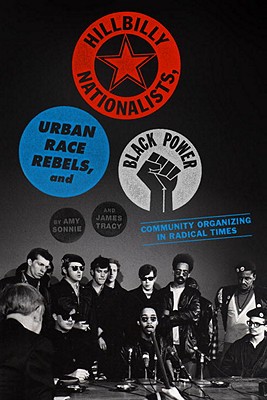 Description
---
THE STORY OF SOME OF THE MOST IMPORTANT AND LITTLE-KNOWN ACTIVISTS OF THE 1960s, IN A DEEPLY SOURCED NARRATIVE HISTORY
 
The historians of the late 1960s have emphasized the work of a group of white college activists who courageously took to the streets to protest the war in Vietnam and continuing racial inequality. Poor and working-class whites have tended to be painted as spectators, reactionaries, and, even, racists. Most Americans, the story goes, just watched the political movements of the sixties go by.

James Tracy and Amy Sonnie, who have been interviewing activists from the era for nearly ten years, reject this old narrative. They show that poor and working-class radicals, inspired by the Civil Rights movement, the Black Panthers, and progressive populism, started to organize significant political struggles against racism and inequality during the 1960s and 1970s. Among these groups:

+  JOIN Community Union brought together southern migrants, student radicals, and welfare recipients in Chicago to fight for housing, health, and welfare . . .
 
+  The Young Patriots Organization and Rising Up Angry organized self-identified hillbillies, Chicago greasers, Vietnam vets, and young feminists into a legendary "Rainbow Coalition" with Black and Puerto Rican activists . . .
 
+  In Philadelphia, the October 4th Organization united residents of industrial Kensington against big business, war, and a repressive police force . . .
 
+ In the Bronx, White Lightning occupied hospitals and built coalitions with doctors to fight for the rights of drug addicts and the poor.

Exploring an untold history of the New Left, the book shows how these groups helped to redefine community organizing—and transforms the way we think about a pivotal moment in U.S. history.
About the Author
---
AMY SONNIE is an activist, educator and librarian who has worked with U.S. grassroots social justice movements for the past seventeen years. She is co-founder of the national Center for Media Justice. Her first book, Revolutionary Voices, an anthology by queer and transgender youth (Alyson Books, 2000), is banned in libraries in New Jersey and Texas and appears on the American Library Association's list of "Top Ten Most Frequently Challenged Books." Her work has appeared in the San Franscisco Bay Guardian, Alternet, Philadelphia Inquirer, Clamor, the Oxygen Television Network, Bitch magazine, and The Sojourner.

JAMES TRACY is a long-time social justice organizer in the San Francisco Bay Area. He is the founder of the San Francisco Community Land Trust and has been active in the Eviction Defense Network and the Coalition On Homelessness, SF. He has edited two activist handbooks for Manic D Press: The Civil Disobedience Handbook and The Military Draft Handbook. His articles have appeared in Left Turn, Race Poverty and the Environment, and Contemporary Justice Review.
Praise For…
---
"Given the invisibility of this history, this book couldn't be more timely and more necessary."
—Roxanne Dunbar-Ortiz, author of Blood on the Border

"People who care about social justice, who care about the future, must learn this history. Our conditions dictate that we don't have the luxury to walk separately anymore."
—Malik Rahim, New Orleans Black Panther Party

"Hillbilly Nationalists recovers the voices of white, working-class radicals who prove abolitionist John Brown's legacy is alive and well. Over ten years, Sonnie and Tracy have collected rare documents and conducted interviews to fill a long-missing piece of social movement history. Focusing on the 1960s–70s and touching on issues just as relevant today, these authors challenge the Left not to ignore white America, while challenging white America to recognize its allegiance to humanity and justice, rather than the bankrupt
promises of conservative politicians."
 —Angela Y. Davis, author of Abolition Democracy: Beyond Prison, Torture, and Empire

"This book is, without question, the definitive resource for scholars, students, and activists interested in some of the most innovative and understudied coalitional politics of the New Left."
—Darrel Enck-Wanzer, editor of  The Young Lords: A Reader

"In our world, 'white, working-class anti-racism' is considered an oxymoron, or at best a pipe dream. Amy Sonnie and James Tracy prove these assumptions wrong, excavating a forgotten history of poor white folks who, in alliance with black nationalists, built a truly radical movement for social justice, economic power, and racial and gender equality. They have written a beautiful,
powerful, surprising account of class-based interracial organizing; I expect Hillbilly Nationalists to inspire a new generation of activists who understand that a true rainbow coalition is not only desirable but our only hope."
—Robin D.G. Kelley, author of Freedom Dreams: The Black Radical Imagination and Thelonious Monk: The Life and Times of an American Original

"Sonnie and Tracy are master storytellers whose stories of working-class, interracial solidarity chart a new direction in the history of the modern freedom movement. Based on dozens of oral histories and previously untapped personal records of movement activists, this book offers an inspiring and largely invisible history of poor and working-class whites who built a 'vanguard of the dispossessed' with Black Panthers, Young Lords, and others in the radical movement for racial and economic justice.  Written with nuance and power, this is a major contribution to the study of civil rights, social justice, working-class communities, and the politics of whiteness in the United States."
—Jennifer Guglielmo, author of Living the Revolution and Are Italians White?

"Hillbilly Nationalists is the story of reformers and revolutionaries, dreamers and doers, who remind us of a transformative organizing tradition among white, working-class communities. Inspired by Black Power and global events, these organizers did what only poor folks can do: they pooled their resources to build a vibrant social movement that escapes easy classification. Sonnie and Tracy combine first-rate historical research and extensive oral histories to capture the legacies of those unsung heroes and heroines who battled for the hearts and minds of working-class Americans in the 1960s and 1970s."
—Dan Berger, editor of The Hidden 1970s: Histories of Radicalism