The Art of Sensual Massage: Book and 2 DVD Set (Paperback)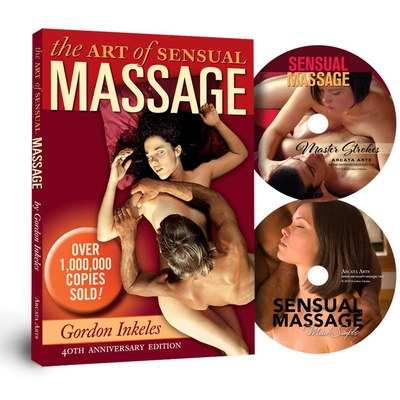 $29.95

Not in Stock... Available to ship in 3-5 days
Description
---
The Art of Sensual Massage demystified the practice of massage and sold over one million copies. The book has remained a best-seller for more than 40 years. Now two brand new DVDs by Gordon Inkeles bring the book's sensual massage techniques to the screen. Sensual Massage Made Simple (2010) shows you what to do on every part of the body. Sensual Massage Master Strokes (2014) focuses on the most popular strokes movement by movement. In both DVDs rhythms and pressures are clearly shown, making learning sensual massage easier than ever before. The two 70 minute videos have won six awards at international film festivals.

Stroke by stroke you will move confidently from head to toes spreading pleasure everywhere you go.

Massage is educated touch. You will learn exactly what to do everywhere on the body. You ll knead from head to toes. You ll learn stroking movements that flow up and down the torso, spreading warmth. And you ll learn to ease pain by applying friction and percussion to weary muscles.

Massage is shared pleasure, it's drugless therapy and now for the first time it's easy to do. Watch a stroke on your screen, then try it for yourself. Make massage part of your life with the world's best selling massage book and these gorgeous companion videos.