To Life (Hardcover)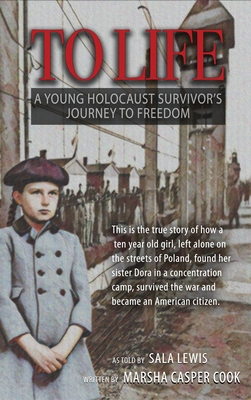 Description
---
This compelling Holocaust memoir is about Sala Lewis and her love of family.
Ten year old Sala Lewis had been out with friends and came home to find the apartment where she lived locked. The Nazis had taken her family and she was left to wander the streets of Poland alone. In an instant, she had gone from having everything to having nothing -- no family, no clothes, no food, and at that moment in time, no future. Because she was strong willed and confident, she was able to make her way to find her sister, Dora, who had been taken to Bergen-Belsen concentration camp.
Because Dora was older and knew what had to be done to stay alive in the concentration camp, she helped Sala adjust to following orders and the vigorous work required there. Dora had raised herself to a level where she oversaw three hundred young women. If everyone did as she said, the sisters remained safe. If the women misbehaved or tried to escape, Sala would be killed.
As they lived through these hardships, their sisterly bond grew stronger than it had ever been. Even after their liberation from the camp, their love and commitment to each other continued throughout their lives.
Sala and Dora had a strong belief in the American dream and the land of opportunity, and eventually made it to America. The proudest day of their lives was when they became United States citizens.