The Big Book of Kamasutra Sex Positions: The Beginner's Guide To Learn Techniques for Incredible Lovemaking, Transform Your Sex Life and Improve Intim (Paperback)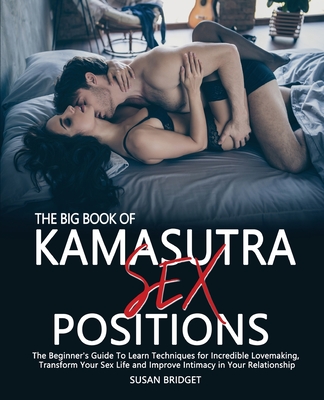 Description
---
Are you currently searching for new means to improve your sex life?Are you one of those couples who would like to try something new and unique?If that's the case, have you already considered the Kamasutra as a new means of discovering new sex positions?
Keep in mind that sex is a crucial part of any relationship. Sex is the foundation of having a dynamic and thriving relationship that lasts. However, it could become a function, which is less exciting with every passing month.
It's often the case due to the lack of adventure and excitement between partners, especially when we talk about lovemaking.
Enhance your fitness while reaching new heights of sexual bliss with exciting sex positions designed to work and tone key muscle groups for both partners. Each clearly illustrated sexercise includes stats and tips to maximize your workout. Heart rate and flexibility ratings allow you to choose positions based on your level of fitness, then build your strength for more challenging positions. Whether you're in the mood for a high-intensity quickie or a lovemaking marathon, The Big Book of Kamasutra Sex Positions will help to get you physically fit and sexually satisfied.
With this book, you can quickly transform the way you do not just perform the act of sex. The best thing here is that it will present to you how you could think about it and approach it differently. Even a newbie in Kamasutra will understand better learning and take their sex life to new levels with clearly laid out information.
So, what are you waiting for?
If you are one of those men or women who like to spice things up in your sex life, there's only one thing you need to do. Click the BUY NOW button and see it for yourself