The Language of Trees: A Rewilding of Literature and Landscape (Hardcover)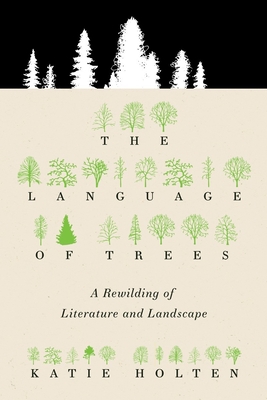 $29.95
Email or call for price
Description
---
NATIONAL BESTSELLER
"Inspiring. . . . insights that are scientific, intimate and surprising. . . . a call to action for those who still care."—The Washington Post
Inspired by forests, trees, leaves, roots, and seeds, The Language of Trees: A Rewilding of Literature and Landscape invites readers to discover an unexpected and imaginative language to better read and write the natural world around us and reclaim our relationship with it. In this gorgeously illustrated and deeply thoughtful collection, Katie Holten gifts readers her tree alphabet and uses it to masterfully translate and illuminate beloved lost and new, original writing in praise of the natural world. With an introduction from Ross Gay, and featuring writings from over fifty contributors including Ursula K. Le Guin, Ada Limón, Robert Macfarlane, Zadie Smith, Radiohead, Aimee Nezhukumatathil, James Gleick, Elizabeth Kolbert, Plato, and Robin Wall Kimmerer, Holten illustrates each selection with an abiding love and reverence for the magic of trees. She guides readers on a journey from creation myths and cave paintings to the death of a 3,500-year-old cypress tree, from Tree Clocks in Mongolia and forest fragments in the Amazon to the language of fossil poetry, unearthing a new way to see the natural beauty all around us and an urgent reminder of what could happen if we allow it to slip away.
The Language of Trees considers our relationship with literature and landscape, resulting in an astonishing fusion of storytelling and art and a deeply beautiful celebration of trees through the ages.

About the Author
---
Katie Holten is an artist and activist. In 2003, she represented Ireland at the Venice Biennale. She has had solo exhibitions at the Bronx Museum of the Arts, the Nevada Museum of Art, the New Orleans Museum of Art, the Contemporary Art Museum St. Louis, and Dublin City Gallery The Hugh Lane. Her drawings investigate the tangled relationships between humans and the natural world. She has created Tree Alphabets, a Stone Alphabet, and a Wildflower Alphabet to share the joy she finds in her love of the more-than-human world. Her work has appeared in The New Yorker, The New York Times, Artforum, and frieze. She is a visiting lecturer at the New School of the Anthropocene. If she could be a tree, she would be an Oak.

Ross Gay is the author of The Book of Delights, a genre-defying book of essays, and three books of poetry: Against Which, Bringing the Shovel Down, and Catalog of Unabashed Gratitude. He is also the co-author, with Aimee Nezhukumatathil, of the chapbook "Lace and Pyrite: Letters from Two Gardens," in addition to being co-author, with Richard Wehrenberg, Jr., of the chapbook, "River." He is a founding editor, with Karissa Chen and Patrick Rosal, of the online sports magazine Some Call it Ballin', in addition to being an editor with the chapbook presses Q Avenue and Ledge Mule Press. Ross is a founding board member of the Bloomington Community Orchard, a non-profit, free-fruit-for-all food justice and joy project. He has received fellowships from Cave Canem, the Bread Loaf Writer's Conference, and the Guggenheim Foundation. Ross teaches at Indiana University.
Praise For…
---
Over 50 writings from notable authors, philosophers, scientists and artists—including Plato, Ursula K. Le Guin and Ada Limón—are delicately translated into Holten's visual "tree alphabet" in this ode to the world's trees.
— The New York Times Book Review

Striking.
— The New Yorker

Inspiring. . . . insights that are scientific, intimate and surprising. . . . a call to action for those who still care.
— The Washington Post

An unexpected mix of poems, essays, quotations, song lyrics, recipes, and other texts. . . . offering diverse perspectives on those towering woody plants and their relationship to human life.
— Poets & Writers

Stunning. . . . I've never seen anything remotely like this work of art.
— Book Page, Starred Review

An appealing, celebratory offering with an urgent message.
— Kirkus Reviews

Unmissable.
— LitHub

Science and storytelling are braided with history and art to create something quietly urgent and beautiful here. This is nature writing in a new way, full of tree magic.
— Buzzfeed

Celebratory. . . . delightful. . . . lovely as both exercise and artifact.
— Orion Magazine

Incredibly refreshing. . . . A stunning celebration of trees through the ages, this book is sure to spark passion with every passing page.
— Chicago Review of Books

An imaginative compilation of poems and stories translated into a stunning visual language based on trees. . . . Perfect for an evening meditative read, or for placing out on your coffee table to share with friends.
— District Fray Magazine

An astonishing fusion of storytelling & art, and a deeply beautiful celebration of trees through the ages.
— Write or Die Magazine

Absorbing. . . . offers knowledge and inspiration alike.
— Frontier Magazine

Revelatory. . . . Wondrous. . . . An exquisite ode to all things arboreal.
— The Washington Independent Review of Books

Stunning. . . . a beautiful, artistic rendering of the many ways trees nourish and undergird our world.
— Shelf Awareness

One of the most exquisite books inspired by trees in recent memory.
— Tertulia

Touching. . . . An ode to literature, language, and nature that intertwines and loops like branches of a tree.
— Airmail

In The Language of Trees Katie Holten plants trees in our imagination, transferring them from objects of outdoor devotion to subjects of deep contemplation.

— Pittsburgh Post-Gazette

This literary anthology will give readers a new vocabulary when it comes to talking about nature.
— District Fray Magazine

A masterpiece. Katie Holten's tree alphabet is a gift to the printed world.
— Max Porter, author of Grief Is a Thing with Feathers