Filthy & Forbidden Erotic Sex Stories: Adults Erotica Collection- BDSM, Daddy Domination, Gang Bangs, Hot Wives, Anal, Bi-Sexual Threesomes, Foot Feti (Paperback)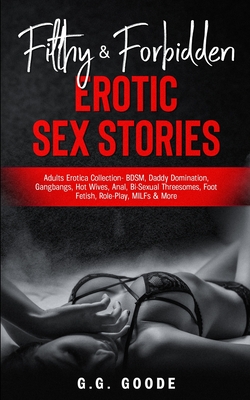 Description
---
If You're Looking For A HORNY Collection Of Erotic, Forbidden & Orgasmic Sex Stories Then Keep Reading...
Do you want to immerse yourself in your darkest erotic and dirty fantasies freely?
Then, it's time to Awaken your true sexual desires with these Taboo Explicit Sex Stories.
Whether you want to dive deep into your dirtiest fantasies alone, or explore ideas with your Partner(s)to spice up your own sex life, these stories are sure to leave you sexually satisfied with your heart not being the only thing pounding...
These stories have been written to 1)help activate your erotic pleasure like never before 2) Let you explore an array of ideas you can use in your own sex life, after all... that's what it's all about, right?
One thing's for sure, your sexuality will be awakened like never before.
Inside, you'll find satisfying, sinfully sexy, and incredibly addictive short stories, featuring:
BDSM Scenarios That Will Have You Buying Whips & Chains Within Minutes.
Taboo Stories That Will Have You Searching For Ways You Can Make Them Happen In Your Own Life.
Threesomes, Daddy Domination, And Gangbangs That Will Make You Crave Some Fresh Meat In The Bedroom
Swingers And Hot Wives Living In Complete Sexual Freedom Like Never Before (Society Doesn't Want You Reading These )
Public Sex That'll Give You Plenty Of Ideas...
And so many more equally heart-pounding short stories to leave you breathless
Ever felt like there's more to your sexuality than what you've experienced so far in your life?
Let our Erotica Sex Stories series take you to places you've never been before & uncover the sex life you truly desire...
If You Want Over 5 hrs Worth Of Sex Stories That Will Unlock Your Sexuality Like Never Before, Scroll Up, Click "Add To Cart.