Shakespeare Was a Woman and Other Heresies: How Doubting the Bard Became the Biggest Taboo in Literature (Hardcover)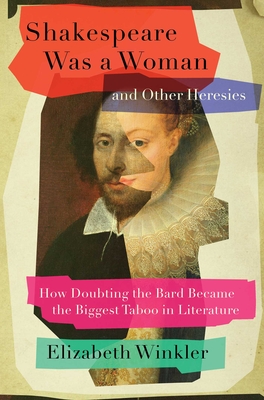 Description
---
An "extraordinarily brilliant" and "pleasurably naughty" (André Aciman) investigation into the Shakespeare authorship question, exploring how doubting that William Shakespeare wrote his plays became an act of blasphemy…and who the Bard might really be.

The theory that Shakespeare may not have written the works that bear his name is the most horrible, unspeakable subject in the history of English literature. Scholars admit that the Bard's biography is a "black hole," yet to publicly question the identity of the god of English literature is unacceptable, even (some say) "immoral."

In Shakespeare Was a Woman and Other Heresies, journalist and literary critic Elizabeth Winkler sets out to probe the origins of this literary taboo. Whisking you from London to Stratford-Upon-Avon to Washington, DC, she pulls back the curtain to show how the forces of nationalism and empire, religion and mythmaking, gender and class have shaped our admiration for Shakespeare across the centuries. As she considers the writers and thinkers—from Walt Whitman to Sigmund Freud to Supreme Court justices—who have grappled with the riddle of the plays' origins, she explores who may perhaps have been hiding behind his name. A forgotten woman? A disgraced aristocrat? A government spy? Hovering over the mystery are Shakespeare's plays themselves, with their love for mistaken identities, disguises, and things never quite being what they seem.

As she interviews scholars and skeptics, Winkler's interest turns to the larger problem of historical truth—and of how human imperfections (bias, blindness, subjectivity) shape our construction of the past. History is a story, and the story we find may depend on the story we're looking for.

"Lively" (The Washington Post), "fascinating" (Amanda Foreman), and "intrepid" (Stacy Schiff), Shakespeare Was a Woman and Other Heresies will forever change how you think of Shakespeare…and of how we as a society decide what's up for debate and what's just nonsense, just heresy.
About the Author
---
Elizabeth Winkler is a journalist and book critic whose work has appeared in The Wall Street Journal, The New Yorker, The New Republic, The Times Literary Supplement, and The Economist, among other publications. She received her undergraduate degree from Princeton University and her master's in English literature from Stanford University. Her essay "Was Shakespeare a Woman?", first published in The Atlantic, was selected for The Best American Essays 2020. She lives in Washington, DC.
Praise For…
---
"An extraordinarily brilliant and scholarly work, written with an unyielding sleuthing instinct and sparkling with pleasurably naughty moments. This page-turner is mesmerizing."
—André Aciman, PhD, New York Times bestselling author of Call Me by Your Name

"A fascinating detective story… whose irreverence is part of its appeal."
—The Guardian

"Elizabeth Winkler is blessed with the clear-eyed wit of a heroine in a Shakespearean comedy. Her undoing of the fools in the forest of the authorship question is iconoclasm As You Like It—joy to behold, lesson for us all."
—Lewis Lapham, founder of Lapham's Quarterly

"As a literary-investigative reporter, Elizabeth Winkler… pursues her quarry with tenacity and grips it like a dog with a bone."
—The Wall Street Journal

"Lively…. Winkler is a crackerjack researcher, deftly laying out the myriad questions, arguments and mysteries swirling around Shakespeare."
—Michael Dirda, The Washington Post

"Elizabeth Winkler's Shakespeare Was a Woman and Other Heresies is one of the most engaging, riveting, scholarly, and challenging whodunits anyone with an interest in theater, human psychology, literature, and history can hope to read. Following in the footsteps of Henry James, Mark Twain, Mark Rylance, and innumerable other skeptics, Winkler writes about what has been essentially a centuries old theological dispute about the origins of Shakespeare's astounding body of work like a Shakespearean drama itself: full of complex characters with false reputations and deceptive appearances."
—Bessel van der Kolk, MD, New York Times bestselling author of The Body Keeps The Score

"No, Elizabeth Winkler doesn't reveal the true identity of the writer Ruth Bader Ginsburg termed "the literary genius known by the name William Shakespeare." But she does explain how we've wound up with, among an army of others, a republican Shakespeare and a monarchist Shakespeare, a Shakespeare who hated his wife and one who loved his, a Shakespeare who wrote all the plays and a Shakespeare who could not write at all. Along her intrepid way, Winkler charts, with refreshing clarity, the much-contested ground underfoot, studded with flinty convictions, gnarled fictions, and a surprising number of land mines."
—Stacy Schiff, Pulitzer Prize-winning author of The Revolutionary

"Enormously entertaining as a comedy of manners about academic scholarship... [with] characters straight out of a Philip Roth campus novel."
—Washington Free Beacon

"A perfect introduction to a world of unbridled passion, retribution, and intrigue—I refer of course to the Shakespeare authorship question. Brilliant and mind-blowing."
—Karen Joy Fowler, New York Times bestselling author of Booth

"A fascinating read. Winkler boldly pushes against traditional boundaries of gender and identity to show that meaning can be constructed in many different ways."
—Amanda Foreman, PhD, internationally bestselling author of Georgiana