Owner of a Lonely Heart: A Memoir (Hardcover)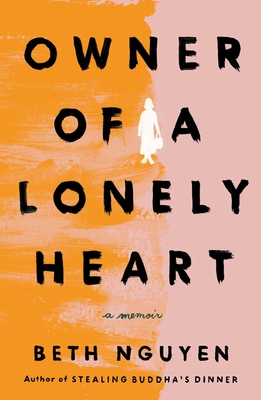 Description
---
Named a Best Memoir of 2023 by Oprah Daily • Selected for Time's 100 Must-Read Books of 2023

"This book…is what memoir writing in the hands of a caring, curious wunderkind can be." —Kiese Laymon, author of Heavy

From the award-winning author of Stealing Buddha's Dinner, a powerful memoir of a mother-daughter relationship fractured by war and resettlement.

At the end of the Vietnam War, when Beth Nguyen was eight months old, she and her family fled Saigon for America. Only Beth's mother stayed—or was left—behind, and they did not meet again until Beth was nineteen. Over the course of her adult life, she and her mother have spent less than twenty-four hours together.

Owner of a Lonely Heart is "a portrait of things left unsaid" (The New York Times), a memoir about parenthood, absence, and the condition of being a refugee: the story of Beth's relationship with her mother. Framed by a handful of visits over the course of many years—sometimes brief, sometimes interrupted, some alone with her mother and others with the company of her sister—Beth tells an "unforgettable" (People) coming-of-age story that spans her childhood in the Midwest, her first meeting with her mother, and her own experience of parenthood.
About the Author
---
Beth Nguyen is the author of the recently published memoir Owner of a Lonely Heart, the memoir Stealing Buddha's Dinner, and two novels. Her work has appeared in publications including The New Yorker, The Paris Review, and Best American Essays. She is a professor of creative writing and director of the MFA program at the University of Wisconsin–Madison.
Praise For…
---
One of the Most Anticipated of the Year from USA Today, NPR, Boston Globe, and Goodreads

"Achingly beautiful... told with wrenching emotion and exquisite controlled prose. A soon-to-be classic with implications about immigration in any era."
—Oprah Daily

"Owner of a Lonely Heart is not a chronological memoir. It circulates among memories, embellishing and deepening the reader's and Nguyen's understanding of them… A superb writer, Nguyen gives readers a tactile sense of her childhood home life and the love and anguish she felt there."
—BookPage

"Nguyen grapples with vital questions of family, loss, and memory, giving voice to the oft overlooked contours of grief – and encouraging readers to reflect on their own relationships."
—Christian Science Monitor

"A portrait of things left unsaid ... this is a memoir for those late-night moments."
—New York Times Book Review

"Nguyen puts these experiences into writing, a healing recognition occurs, most movingly through her children, who are able to see and validate things she cannot."
—Washington Post

"Nguyen is a confident and reliable protagonist even when running up against painful memories, providing readers with enough distance as to almost be objective ... Nguyen has made a journey of facing her origins and contending with the limitations of American narratives, and we are lucky to be invited along the way."
—Brooklyn Rail

"Affecting ... The book is filled with honest and sometimes painful insights that Nguyen discovers in her search for truths about the past."
—New York Journal of Books

"Beth Nguyen has created a new way to ache that is as comfortable exploring loss, loneliness and longing as it is exploring the contours of joy, survival and, really, the kind of fleshy isolation necessary to make lasting art. The premise here is so compelling, but the execution is otherworldly. Every page of Owner of a Lonely Heart will have you holding your chest with one hand to eagerly turning the page with the other. This book, and the making of lives it explores, is what memoir writing in the hands of a caring, curious wunderkind can be."
—Kiese Laymon, author of Heavy

"Owner of a Lonely Heart is the autobiography of a feeling—the story of a fear you cannot name because you are one of the authors, a secret you hid even from yourself in case even this might save you. Nguyen unravels the way the child refugee she was learned to save herself, which turns out to be the final act of saving oneself—not from the country she left, but the country she found. This memoir is a distillation, the sort of cure you make from a poison but can offer to others, and she has written it with a direct, spotlit brilliance, page by careful page."
—Alexander Chee, author of How to Write an Autobiographical Novel

"Nguyen's triumph of a book is forged and fed by her searing curiosity about her refugee family's past and her jeweler's eye for precise detail – all while navigating the geography of her Midwest roots with a big, beautiful heart. A must-read for all who struggle with or celebrate complicated family. This will nourish, rend, and tend your heart."
—Aimee Nezhukumatathil, author of World of Wonders

"Owner of a Lonely Heart is, quite possibly, the most beautiful memoir I've ever read. It is a book about history, about family, about where and to whom we belong, and whether we ever really do. Devastating in both its sharpness and its compassion, this book is a masterpiece — truly, a gift."
—Lacy M. Johnson, author of The Reckonings

"This brilliant, searching memoir clinches Beth Nguyen's place among the great writers and thinkers of our day."
—Joanna Rakoff, author of My Salinger Year and A Fortunate Age

"Quietly moving... A ruminative, unadorned, lyrical look at origins, family, and belonging."
—Kirkus

"Ruminative… This shines as a multilayered look at the ways absence can shape one's sense of self."
—Publishers Weekly

"Poignant... Beautifully written and painfully honest, Nguyen's memoir reveals the struggles and prejudices refugees face and the importance of knowing your life story."
—Booklist