COVID-19
Weller Book Works is closed to the public. But Catherine and Tony are working behind closed doors to keep the store ready to open when we're able.
We're still taking and filling orders via this website for new books or Biblio for used and rare books. At this time we can offer curbside pick-up or shipping only.
We are unable to consider used book offers until after we re-open to the public.
Wasteland: The Great War and the Origins of Modern Horror (MP3 CD)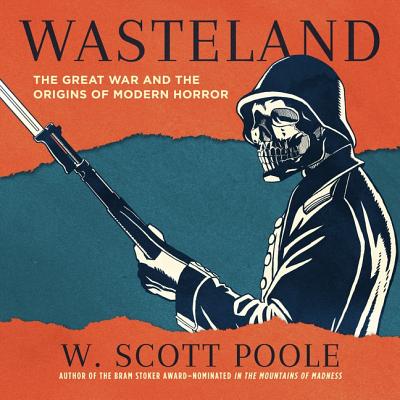 November 2018 Indie Next List
---
"Wasteland is as breathtaking as it is sensitive. The backdrop of bloodshed that is the Great War is almost its own character in Poole's writing. The early lives and war experiences of each man lend themselves so well to the dissection of the works produced by those who returned but never really came back. Poole's latest is dead on with sharp analysis and drinkable prose as he illustrates the hunger for horror, the almost compulsive need to relive and re-experience the trauma, and the irrevocable mark on the landscape of our psychology and pop culture."
— Bethany Kibblesmith, The Book Table, Oak Park, IL
Description
---
Historian and Bram Stoker Award nominee W. Scott Poole traces the confluence of history, technology, and art that gave us modern horror films and literature.
In the early twentieth century, World War I was the most devastating event humanity had yet experienced. New machines of war left tens of millions killed or wounded in the most grotesque of ways. The Great War remade the world's map, created new global powers, and brought forth some of the biggest problems still facing us today. But it also birthed a new art form: the horror film, made from the fears of a generation ruined by war.
From Nosferatu to Frankenstein's monster and the Wolf Man, from Fritz Lang, F. W. Murnau, and Albin Grau to Tod Browning and James Whale, the touchstones of horror can all trace their roots to the bloodshed of the First World War. Historian W. Scott Poole chronicles these major figures and the many movements they influenced. Wasteland reveals how bloody battlefields, the fear of the corpse, and a growing darkness made their way into the deepest corners of our psyche.
On the one-hundredth anniversary of the signing of the armistice that brought World War I to a close, W. Scott Poole takes us behind the front lines of battle to a no-man's-land where the legacy of the War to End All Wars lives on.