Baby-led weaning: 0% dramas, 100% soluciones / Baby-led weaning: Zero Dramas, Hundreds of Solutions (Paperback)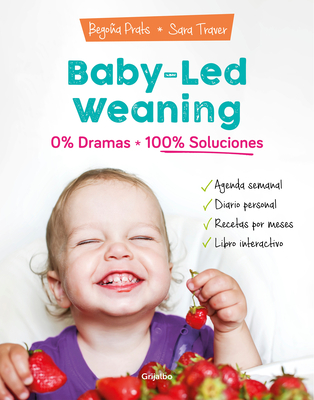 $21.95
Email or call for price
Description
---
Un libro interactivo para resolver todas las dudas sobre el baby-led weaning.

- ¿Os gustaría empezar a introducir alimentos sólidos en la alimentación de vuestro bebé, pero no sabéis cómo?
- ¿Habéis oído hablar del baby-led weaning, pero no tenéis muy claro qué es?
- ¿O ya estáis inmersos en el proceso y os han surgido dudas?
- ¿Se os da bien, pero queréis saber cómo organizaros mejor?

Este libro interactivo está pensado para todos los que os encontréis en cualquier fase del proceso de ofrecer alimentos sólidos o líquidos a su bebé de entre los 6 y los 12 meses, como complemento de la leche. Podéis leerlo en orden o ir directamente al apartado que os interesa, avanzar mes por mes o buscar la solución al problema que tenéis justamente hoy.

Queremos ir de la mano con vosotros, mes a mes, ofreciéndoos soporte, solucionando las dudas, avanzando y retrocediendo según sean vuestras necesidades.

Porque la alimentación complementaria no es una cuesta por la que ir ascendiendo sino más bien una montaña rusa, llena de subidas y bajadas; comprender por qué pasan las cosas y encontrar la respuesta adecuada os dará confianza y motivación.

Vienen meses muy divertidos y queremos que los viváis con la mayor calma y disfrute posible. Además, vamos a ofreceros un montón de recursos útiles y, por supuesto, 30 recetas para que no os falten ideas. Una alimentación 100% soluciones, 0% dramas.

ENGLISH DESCRIPTION

An interactive book to help answer all your questions about baby-led weaning.

-Would you like to start introducing solid foods to your baby's diet, but you don't know how to?
-You have heard of baby-led weaning, but are not sure what it is?
-Or are you already immersed in the process and have doubts?
-Is it working ok for you but you would like to organize yourself better?

This interactive book is designed for those who are in any phase of the process of offering solid or liquid foods to their baby as milk supplement. You can read the book in order, month by month, or you can go directly to the section that interests you and find solutions to the problems you are having at that moment.

We want to hold you by the hand, offer support, help solve doubts, move forward and backwards according to your needs.

Because complementary feeding is not a steady hill to climb but rather a roller coaster, full of ups and downs; understanding why things happen and finding the right answer will give you confidence and motivation.

In addition, this book offers many useful resources and, of course, 30 recipes so that you don't run out of ideas. A feeding that is 100% solutions, 0% dramas.
About the Author
---
Begoña Prats, mallorquina afincada en Barcelona, es joyera de profesión. Con la llegada de sus mellizos Marcos y Pablo, pronto se interesó por una manera de alimentar más saludablemente a sus hijos, lo que le llevó a practicar Baby-Led Weaning. Un día se le ocurrió trasladar las recetas adaptadas que preparaba habitualmente a sus hijos a una aplicación de móvil -HAPPY RECIPES- que resultó tener mucha aceptación. A esta le siguieron algunas más que actualmente ayudan a muchos padres a practicar BLW y les inspiran en las comidas del día a día con sus pequeños.

Sara Traver es asesora de lactancia, de alimentación infantil, de baby-led weaning y de sueño. Además de acompañar a familias en diferentes etapas de la crianza y la primera infancia, Sara es también profesora en la Escuela Bitácoras, miembro de la comunidad Gentle Sleep Coach y de la Asociación Despertares Maternidad. Dulces sueños para niños despiertos es su primer libro, en el que aúna todos sus conocimientos.