Encuéntrame / Find Me (Paperback)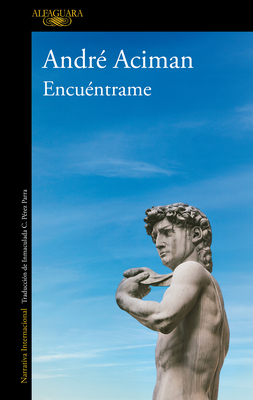 $19.95
Email or call for price
Description
---
VUELVEN ELIO Y OLIVER
Por fin, la continuación de Llámame por tu nombre.
Vuelve la historia de amor más popular de los últimos años.
Uno de los mejores libros del año para Time y Vogue.

«Un deleite de sensualidad.»- Observer

En 2018, el mundo entero se conmovió con el amor de verano entre Elio y Oliver. Llámame por tu nombre, publicada originalmente más de diez años antes, se convirtió en un fenómeno gracias a la película estrenada aquel año. Y este relato de deseo, descubrimiento, pasión y veladas infinitas llegó a miles de lectores que, con el corazón en vilo, esperan conocer cómo concluye esta historia. Por fin, en Encuéntrame, vuelven Elio y Oliver.

Elio es ahora un pianista en auge a punto de mudarse a París; Oliver es profesor, padre de familia y puede que vuelva a visitar Europa; Samuel, el padre de Elio, vive en Italia y, en un viaje en tren para visitar a su hijo, tendrá un encuentro que cambiará su vida. Este cruce de historias satisfará todas las expectativas, por inconfesables que sean.

ENGLISH DESCRIPTION

A New York Times Bestseller

In this spellbinding exploration of the varieties of love, the author of the worldwide bestseller Call Me by Your Name revisits its complex and beguiling characters decades after their first meeting.

No novel in recent memory has spoken more movingly to contemporary readers about the nature of love than André Aciman's haunting Call Me by Your Name. First published in 2007, it was hailed as "a love letter, an invocation . . . an exceptionally beautiful book" (Stacey D'Erasmo, The New York Times Book Review). Nearly three quarters of a million copies have been sold, and the book became a much-loved, Academy Award–winning film starring Timothée Chalamet as the young Elio and Armie Hammer as Oliver, the graduate student with whom he falls in love.
In Find Me, Aciman shows us Elio's father, Samuel, on a trip from Florence to Rome to visit Elio, who has become a gifted classical pianist. A chance encounter on the train with a beautiful young woman upends Sami's plans and changes his life forever.

Elio soon moves to Paris, where he, too, has a consequential affair, while Oliver, now a New England college professor with a family, suddenly finds himself contemplating a return trip across the Atlantic.

Aciman is a master of sensibility, of the intimate details and the emotional nuances that are the substance of passion. Find Me brings us back inside the magic circle of one of our greatest contemporary romances to ask if, in fact, true love ever dies.
About the Author
---
André Aciman nació en 1951 en Alejandría, en el seno de una familia judía sefardí de origen turco. Formado en la universidad de Harvard, ha sido profesor de Literatura Comparada y de Escritura Creativa en el Bard College y en las universidades de Princeton y Nueva York.

En cuanto a su labor creativa, es muy conocido como ensayista y estudioso de la obra de Marcel Proust. En 1996 publicó Out of Egypt, un libro de memorias sobre su infancia y adolescencia en Egipto durante las décadas de 1950 y 1960, que mereció el prestigioso Whiting Award.

Posteriormente publicó en 2001 False Papers: Essays on Exile and Memory, una recopilación de catorce ensayos, y partició como coautor y editor en las obras The Proust Project y Letters of Transit.
Llámame por tu nombre, su primera novela, ganó el Lambda Literary Award, fue considerada Mejor Libro del Año por Publishers Weekly y The Washington Post, entre otros, y ha sido llevada al cine con éxito por Luca Guadagnino. Variaciones Enigma es su última novela.
Praise For…
---
La crítica ha dicho...

«Hay momentos que pueden hacer que los lectores miren llorando a la chimenea, real o imaginaria, como Timothée Chalamet al final de la maravillosa película Llámame por tu nombre. »- The Washington Post

«Una reflexión lírica [...] sobre la tarea Sísifo de intentar replicar la pasión de un amor de juventud.»- The New York Times Book Review

«La secuela es tan desesperadamente seductora como la original.».Elle

«Conmovedora.»- People

«Exquisita.»- Indiewire

«No tienes por qué haber leído Llámame por tu nombre para enamorarte inmediatamente de esta secuela tan sexy y melancólica [...] Una preciosa oda al paso del tiempo, al poder duradero del amor real y al dolor de la soledad [...]. La revelación acerca de en quiénes se han convertido estos personajes se despliega lentamente como una pieza preciosa de música clásica.»- BuzzFeed

«Mucho más ambiciosa que Llámame por tu nombre.»- The Times Literary Supplement

«Escrita con la misma prosa turbulenta [...] y llena de gracia que Llámame por tu nombre. [...] He sido incapaz de romper con los ritmos hipnóticos de Aciman.»- Spencer Kornhaber, The Atlantic

«Elegante [...]. Elio está en el corazón de esta novela y sus temas principales [...] están imbuidos de erotismo, nostalgia y ternura con una prosa fluida. Esta novela demuestra de nuevo la capacidad de Aciman para fundir lo sensual y lo racional en unas historias que llegan al corazón.»- Publishers Weekly

«Aciman escribe sobre el deseo con una honestidad brutal, describiendo con igual claridad los encuentros eróticos y emocionales. El sexo puede ser tierno o no serlo, la conexión puede ser duradera o efímera, pero casi siempre tienen múltiples capas y complejidades.»- Boston Globe

«El amor, en todas sus sublimes manifestaciones, se halla en el corazón de la incandescente secuela de Aciman a Llámame por tu nombre [...]. Regala a los lectores un precioso romance del siglo XXI que es el reflejo del recuerdo de las cosas pasadas y de la valentía con la que abrazar el futuro.»- Library Journal

«Una historia fina y memorable sobre cómo perdura el amor a lo largo de generaciones.»- Kirkus

«Una maravilla.»- The Chicago Review of Books

«Llámame por tu nombre fue ampliamente elogiada por la forma en que trataba la naturaleza del amor, algo en lo que Encuéntrame ahonda con gracia y sutileza. Su forma de abordar la psicología de sus personajes es astuta y profunda.»- Booklist