Familia Kitchen Cookbook: Cooking Our Way Home: A celebración of authentic Latino recipes, one family-famous dish at a time (Hardcover)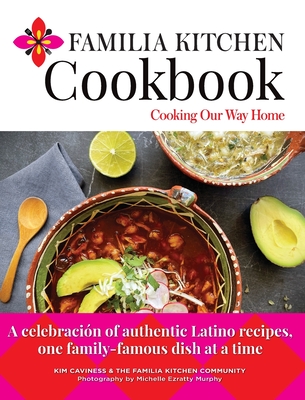 Description
---
Familia Kitchen Cookbook is a celebration of Latin American recipes, one family-famous dish at a time, passed down from generation to generation. From savory: tacos, arroz con pollo, empanadas, arepas, ceviche, ropa vieja and tamales to sweet: arroz con leche, flan and tres leches cake, this essential cookbook features the most popular family recipes from FamiliaKitchen.com, the leading website of Latino homecooking at its most authentic and delicioso.
This cookbook includes traditional recipes the Latino community trusts to cook their way home for important family occasions, holidays and everyday simple meals. Each chapter features a traditional feast starring each of the 12 winning dishes from Familia Kitchen's first year of monthly recipe contests and is filled with authentic Indigenous, Hispanic and African flavors and ingredients honed over time. Or as we like to say at Familia Kitchen: they're Abuela Approved. The cookbook's family dishes include recipes from Mexico, Puerto Rico, Dominican Republic, Cuba, Argentina, Colombia, Guatemala, Panama, Peru and Venezuela. The cookbook also features portraits of its Latino homecooks in their kitchens with their familias and favorite dishes.
As you flip through this book's Latin American recipes, food stories and photos, we hope you make the dishes that call out to you-in your own way and for people you love. No matter where your family comes from, you and everyone you know are invited to our celebraci n. Bienvenidos. Let's cook our way home-together.