Slow Down to Speed Up in Life! Workbook: 10 Mindset Shifts That Change Your Life! (Paperback)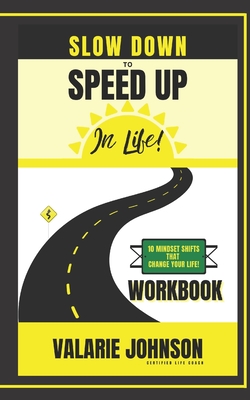 Description
---
Mindshift #10 (page 34) will LITERALLY change everything about how you experience lifeand shift you to a euphoric state of bliss SLOW DOWN TO SPEED UP LIFE MASTERY SERIES BOOK ONE
Stuck, stagnant, and stalled . It hurts to wake up and "endure" life rather thanwaking up every day excited to LIVE LIFE And the mindset shift that changes your life is the powerful exercise of Self-Reflection .
Asking the right questions has the power to LITERALLY change your life for the good, then better, then best - Unstuck and free to be your best you
- Unstagnant and embracing life with a fearless confidence
- Unstalled and living new adventures and greater levels of success 10 Mindset Resets
25+ Clarity Rich Self-Reflection Questions
10 Move forward Exercises
and so much more... There's a blueprint to the life of your dreams...
Create it. Use this workbook to shift your life.