Gefilte Fish, Challah, Tzimmes and More: 20 Rosh Hashanah Recipes From My Israeli Cuisine (Paperback)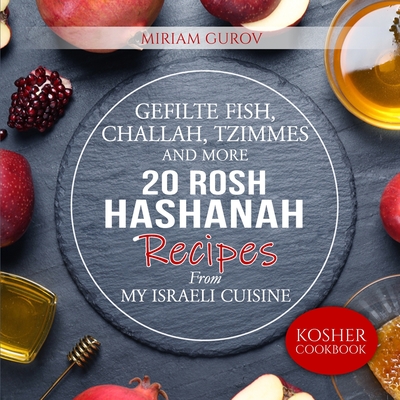 Description
---
Do you love Israeli cooking? Would you like to learn to make exciting Israeli recipes that are perfect for Rosh Hashanah and Sukkot? This Jewish cookbook is the perfect place to discover some stunning food

Israeli cooking occupies a great place among the world cuisines. Jewish traditional food can delight and excite the taste buds. With its position on the Mediterranean, Israel has a wide range of delicious local produce that can be put to good use in your kitchen.
In this book, Gefilte Fish, Challah, Tzimmes and More: 20 Rosh Hashanah Recipes From My Israeli Cuisine, you will discover Israeli offering that will surprise and delight in equal measure, complete with

20 authentic recipes to try

A celebration of the Jewish New Year

A menu of traditional Israeli food

A fusion of east meets west

Modern interpretations of classic meals

And lots more...
If you want to expand your culinary horizons, then this gift from Israel is the ideal place to start, crammed with recipes from Miriam Gurov who teaches kashrut and Jewish traditions at the Nativ Institute in Jerusalem.
These traditional kosher recipes, some with an added modern twist, are certain to become dinner favorites at your Rosh Hashanah and Sukkot celebrations.
Scroll up now and click Add to Cart for your copy